Reading Time: 3 mins
Hair extensions are a beautiful way to elevate your locks with length, volume and thickness!
If you want to enhance your locks via the magic of hair extensions but are unsure what length to go for, you're in the right place.
At Foxy Locks, we provide hair extensions in various lengths and thicknesses. One of the most common questions we're asked is, 'how do I choose the length of my extensions?'.
Here we show the different hair extension sizes available in our handy hair extension length guide to help you decide which length is best.
Our top tips for choosing the correct length of hair extensions
Choosing the right hair extension length is essential to achieve the most naturally finished look with a seamless blend.
Firstly, you must consider how the hair extensions fall and sit against your body.
Hair extensions are not a one size fits all product. For example, 20-inch hair extensions may look longer on you but just the right length for your friend.
As you choose the right extensions and hair length for you, consider future styling and trimming you need to do. You may want to mix up your look, so it's best to go with a longer extension to have room for more stylish and trimming. The longer your hair extensions, the more options you have later on for dramatic hair transformations.
Before heading to the stores and selecting hair extensions randomly, remember that a little knowledge goes a long way. That said, here is a quick guide for you:
Hair extensions for long hair
If you want a foolproof hair extension blend, stay within four inches of your natural hair. For a natural look, opt for hair extension packages containing up to 120 grams of hair. However, choose 2 packs of 120 grams if you want a dramatic look. Try our longest 26-inch hair extensions, or choose slightly shorter ones at 24 inches.
Hair extensions for short hair
We recommend that your natural hair be a minimum length of 6-7 inches to wear hair extensions. If your hair is short, choosing shorter-length extensions is best. Choosing hair extensions more than 6 inches longer than your natural hair may result in a flawed blend. Try our 14-inch or 16-inch hair extensions for the best look.
Hair extensions for medium hair
If you have medium-length hair, don't worry! Although shoulder-length hair is beautiful in its own right, we know what it's like when you long for extra length. Our 18-inch, 20-inch or 22-inch extensions will provide the added length and volume you're looking for.
Measure your natural hair length
Your current hair length and type are also critical, as your hair is the base of your extensions. Longer hair requires different needs from thicker hair, while thin hair can be difficult to work with, prompting you to purchase special tools and quality extensions.
Applying too much length and weight to your hair may put pressure on the crown of your head. Therefore, we recommend hair extensions should be no more than three to four inches longer than your natural hair.
A measuring tape is one of the easiest and most accurate ways of finding out how many inches long your natural hair is.
Grab a small section of hair to measure
With one hand, place the end of a soft tape measure against your scalp
Use your other hand to guide the tape measure down the section of hair you want to measure
Note down the number where your hair ends
Once you know the length of your natural hair, you will have a good indication of what length of hair extensions to choose.
Clip-in hair extension length guide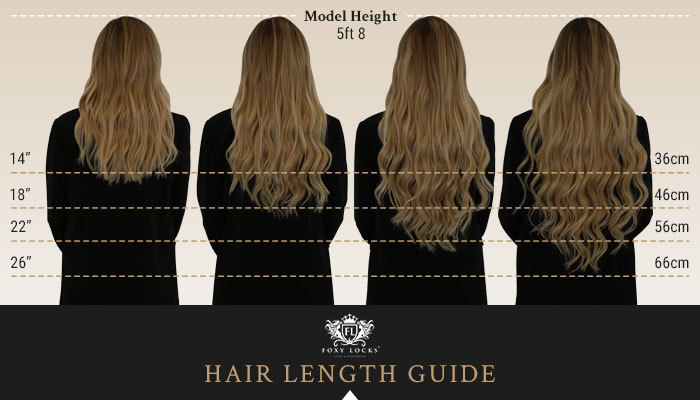 Shop all clip-in extensions
Tape-in hair extension length guide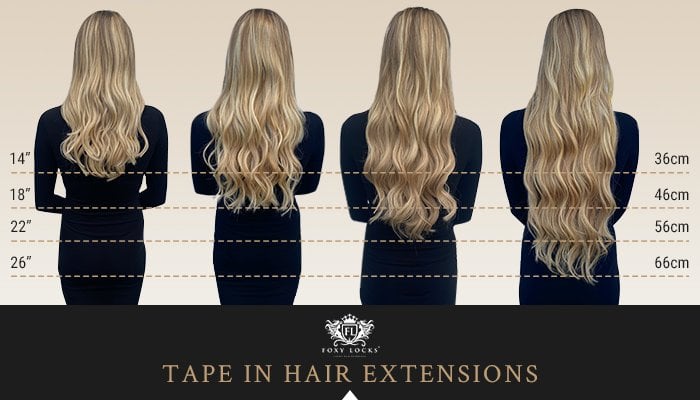 Shop all tape-in extensions
Ponytail hair extension length guide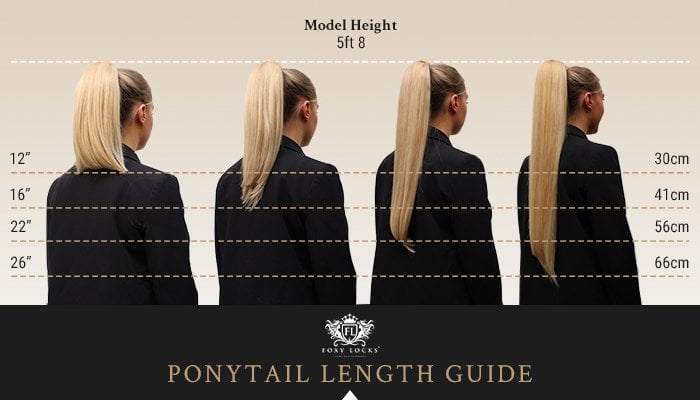 Shop all ponytail extensions
What is the longest hair extension length?
Although many wish to have Rapunzel-length hair, controlling tresses around 70 feet long may be difficult.
At Foxy Locks, we pride ourselves on providing human hair extensions that look and feel like your normal hair, which is why we provide natural-length extensions. All our clip-ins, tape-ins and ponytail extensions come in a maxim length of 26 inches.
Shop online with Foxy Locks for the perfect fit
Now that you know what to consider, you can choose a length and type that best fits your needs! By doing so, you allow extensions to look natural, thereby keeping away all future disappointments.
We have been supplying women worldwide with quality hair extensions at Foxy Locks, ensuring they enjoy only the best products for their crowning glories. Experience the best for your beauty goals and shop with us today.
Take the Foxy Locks Quiz to find what extensions are best for you
Related Articles
How to choose the best volume of hair extensions for you
The right extension style for your face shape
Comments are closed here.