Ponytail Tutorial
Fine hair preventing you from getting a long and voluminous ponytail? Here at Foxy Locks, our ponytail tutorial with extensions will show you how to create the covetable mane you've always wanted!
HOW TO DO A PONYTAIL WITH EXTENSIONS
If your ponytail is in need of a helping hand, hair extensions can provide the perfect solution. Simply watch our video tutorial and follow our guide and we'll show you how to do a ponytail with extension in a matter of minutes.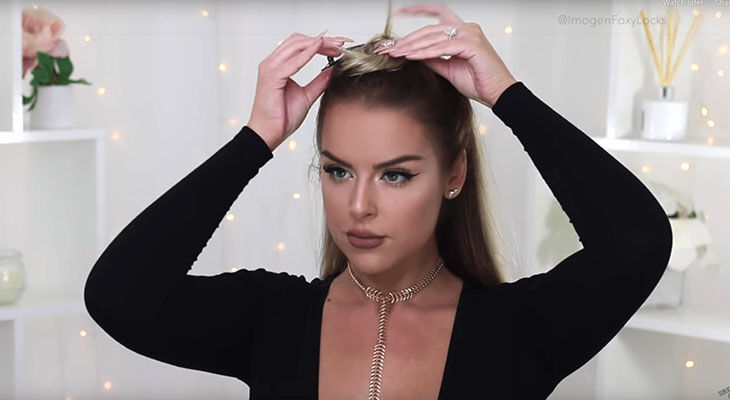 STEP 1: SECTION THE TOP OF YOUR HAIR
The first step of our ponytail tutorial is to start by brushing your hair to remove any tangles and ensure it's smooth and ready to style. Next, section off the very top of your hair as you would a half-up half-down, from your temples to your crown. Clip this up and out of the way, ready to come back to later.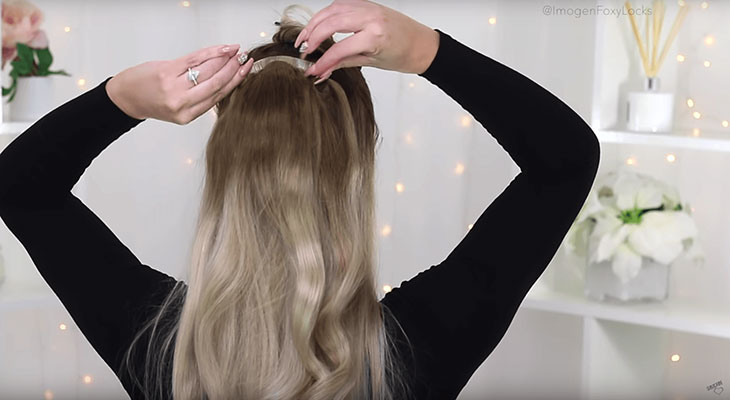 STEP 2: CLIP IN YOUR HAIR EXTENSIONS
When it comes to how to do a ponytail with extensions, we've got it down to a fine art. First, create an anchor for your hair extensions to clip into by making a small ponytail underneath the top section you've pinned back. This will be the base of your ponytail, so ensure you find the right spot for the height you want.
Then, clip in your hair extension wefts around the bobble of your small ponytail, adding in as many as you require for volume. Don't worry about these being visible, as you'll hide this section within your ponytail as it all comes together.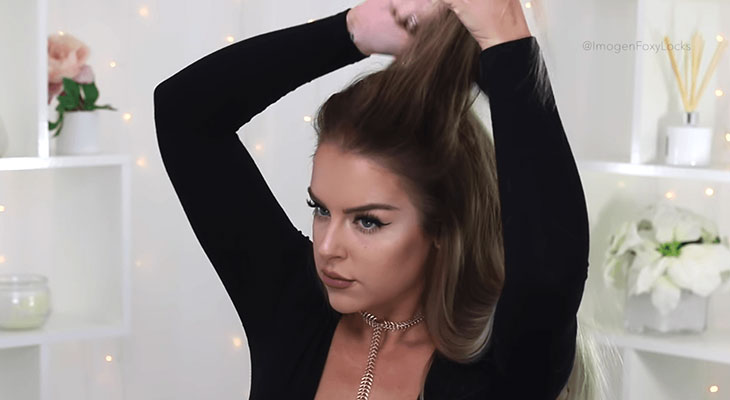 STEP 3: BACKCOMB YOUR HAIR
After you've added all your extensions, unpin your top section and backcomb it to create texture and volume. Once you've sufficiently backcombed, spray this top section with hairspray for extra hold.
Then, pin this out of your way again for a moment while you focus on the bottom section.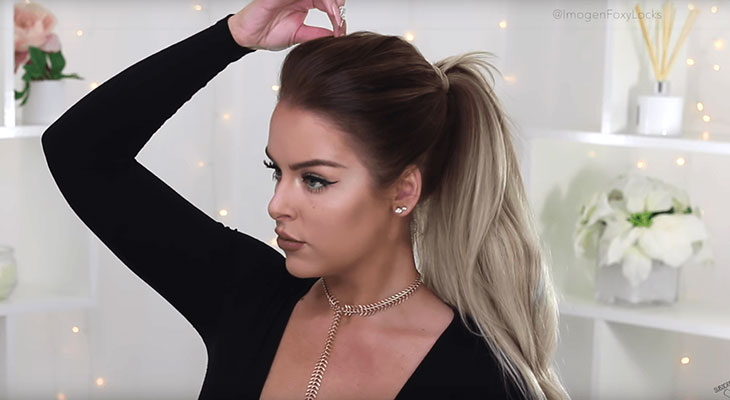 STEP 4: CREATE YOUR HIGH PONYTAIL
To create your ponytail, simply take the loose bottom half of your hair and gather it up into a ponytail around your hair extensions and secure with an elastic band.
Next, unpin and smooth back your top section of hair. Push it forward slightly for height, before adding it to your ponytail and securing in place with another elastic band. If necessary, gently manipulate the top section to create more volume.
To create a sleek finished look, we like to wrap a small section of hair around the base of your ponytail in order to conceal the appearance of the elastic bands.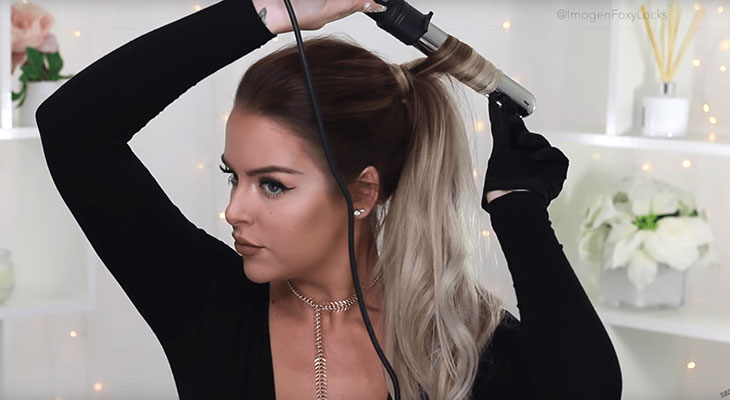 FINAL STEP: CURL YOUR HAIR
The last step of our ponytail tutorial is to curl your ponytail in small sections to create volumised waves. Once you've finished curling, backcomb your hair slightly once more at the base of the bobble for extra volume and you'll be left with a long, voluminous ponytail using hair extensions!
Once you've nailed how to do a ponytail with extensions, you can dress this super chic and versatile look up or down.
GET THE LONG PONYTAIL LOOK
MAKE IT EVEN EASIER WITH OUR CLIP IN PONYTAILS
If you want that extra volume and length but haven't got the time in the morning or evening to create this style then don't worry, we have the perfect selection of beautiful Clip In Ponytails for you to choose from. Check out this video from our very own Imogen to find out just how easy they are to use!