Mermaid Hair Tutorial
Whether you're off to a summer festival or a fancy dress party, glittery mermaid hair is the perfect look to turn heads. Always dreamed of long mermaid hair? Make the fantasy a reality with our mermaid hair extensions tutorial.
HOW TO GET MERMAID HAIR
From the mermaid hair extensions to the glitter finish, here at Foxy Locks, we've created a video and step-by-step tutorial on how to get magical mermaid hair and channel your inner Ariel.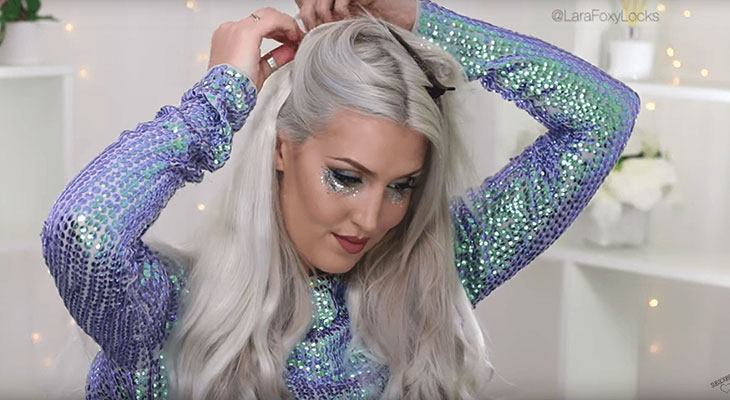 STEP 1: CLIP IN YOUR HAIR EXTENSIONS
Using our long and voluminous Foxy Locks hair extensions, add several 3-clip wefts into sections around the back and lower parts of your head. Next, take 2-clip weft extensions and add these to the sides to ensure a thick and luscious finish. Once you've added all your mermaid hair extensions, brush your hair to smooth it all out, ready to style.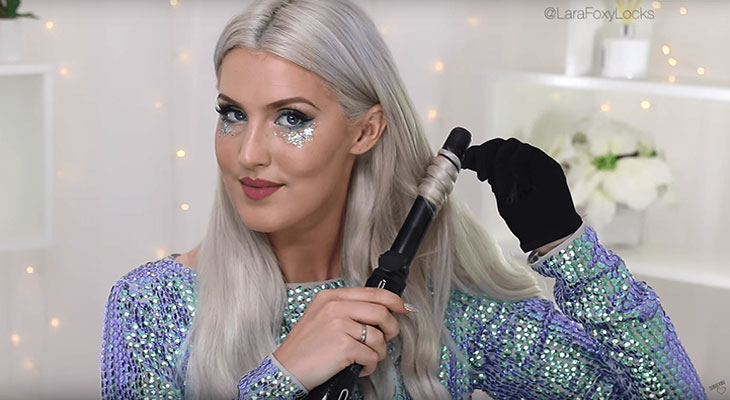 STEP 2: CURL YOUR HAIR
Next, take small sections of hair at a time and use a curling wand to create natural, beachy waves. Once you've finished curling your hair, gently scrunch and comb your fingers through it to add texture and create a loose, less structured curls.
STEP 3: CREATE SMALL TOP BUNS
Now, take a medium section of hair from the front at one side, from your parting to your temple. Simply twist this around in an upwards motion and secure it to the side of your head with several kirby grips. Next, gather and twist the section you've just pinned back into a small top bun and secure with more grips. Once you've finished, repeat this process for the other side!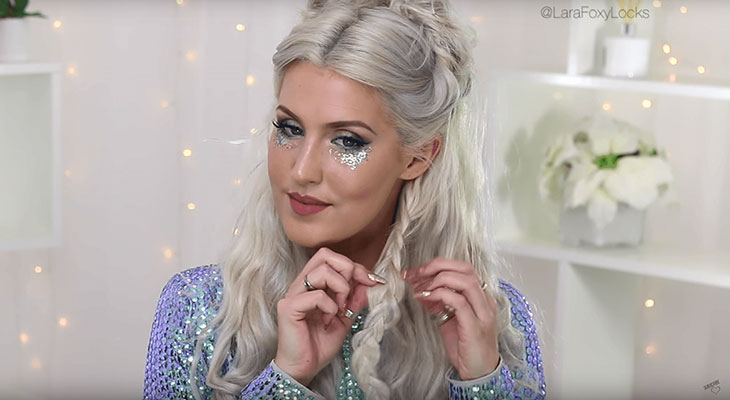 STEP 4: CREATE A LONG PLAIT
Once you have even top buns on either side, add a single-clip weft hair extension to one side of your loose hair and braid this into a simple plait. Secure with a clear elastic band and gently tease out the strands to form a larger and thicker plait.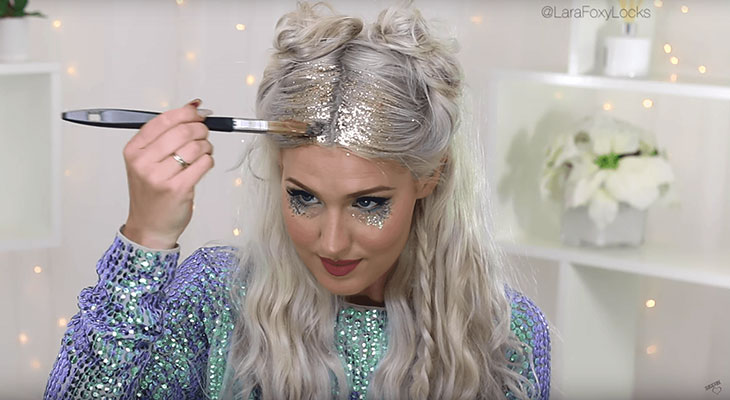 FINAL STEP: ADD GLITTER
Now it's time to add glitter! To do this, simply squeeze a little bit of styling gel into a small bowl and pour in a good amount of glitter in the colour of your choice. Take a standard paintbrush and mix the glitter and hair gel together. Next, brush the glitter through each side of your parting in the direction of your hair. To add another glitter colour on top, simply repeat this process with fresh gel.
And voila! You're ready to rock your glittery mermaid hair and make a splash at your next festival or party.
GET THE MERMAID HAIR LOOK