Reading Time: 6 mins
Are you heading to a festival soon? Have you been endlessly scrolling through Instagram and Pinterest looking for hair inspiration? Well, look no further. The Foxy Locks team have put together our favourite festival hairstyles to keep you looking amazing in the fields.
Space buns
A total festival classic – space buns look amazing on everyone. This super easy festival hairstyle looks fun on its own, or add accessories like a cute headband or colourful feathers for extra festival vibes.
Check out our space buns tutorial for a step-by-step guide on creating this cute festival look.
<iframe width="560" height="315" src="https://www.youtube.com/embed/DehknEytf3I" title="YouTube video player" frameborder="0" allow="accelerometer; autoplay; clipboard-write; encrypted-media; gyroscope; picture-in-picture" allowfullscreen="" style="box-sizing: inherit; max-width: 100%;"></iframe>

Pigtails
Pigtails are an essential festival hairstyle, perfect for keeping hair out of your face on hot days (however rare they may be at festivals!). Pigtails are a really easy style to recreate on any hair length, and will always look super cool and cute. Why not add in some glitter or colourful clips for extra pizzazz?
Dutch braids
Dutch braids are one of the best festival hairstyles for long hair and always look stunning. Plus, unwashed festival hair works to your advantage when creating this look – be sure to watch our step-by-step Dutch braids tutorial to perfect this gorgeous festival hairstyle.
High ponytail
Simple yet stylish, a high ponytail is a perfect choice for when you want a chic festival hairstyle. This is a really easy look to create and requires minimal tools; ideal for when you're in the middle of a field! Check out our ponytail tutorial for an easy-to-follow guide on creating this stunning style.
Bubble tendrils
Stand out from the crowd with this unique and fun festival hairstyle, perfect for keeping hair off your face and neck on hot days. You'll be looking and feeling cool with this amazing festival hairstyle.
Fishtail braid
The fishtail braid is another of the best festival hairstyles for long hair. This hairstyle is incredibly popular, and for a good reason! It looks stunning, lasts for days and is great for adding accessories, and you could add in some colourful beads or ribbons for extra festival vibes. Take a look at our step-by-step fishtail ponytail tutorial for an easy guide to creating this look.
<iframe loading="lazy" width="560" height="315" src="https://www.youtube.com/embed/rCb-Ok-xGHs" title="YouTube video player" frameborder="0" allow="accelerometer; autoplay; clipboard-write; encrypted-media; gyroscope; picture-in-picture" allowfullscreen="" style="box-sizing: inherit; max-width: 100%;"></iframe>
Half up and half down
Half-up festival hairstyles look so chic and are super easy to create. Plus, you can personalise this look to suit your tastes. You can choose a half-up ponytail, half-up bun, or even combine this style with space buns. Take a look at our half up half down bun tutorial for a guide to creating this easy festival hairstyle
Waterfall braids
Waterfall braids are the perfect choice for creating that gorgeous boho-chic festival look. An easy festival hairstyle that looks amazing with extra accessories like feathers, flower crowns or a bandana. Waterfall braids look stunning and are ideal for keeping fringes out of your face on hot festival days.
French twist
This is a very pretty hairstyle that looks stunning at a festival. Super feminine and looks amazing paired with a floaty dress and cute accessories. Add some flowers or beads for a festival vibe or go classic with a sleek barrette – the choice is yours!
Boho braids
This is a perfect festival hairstyle for achieving that gorgeous boho look. Boho braids are a super easy style to recreate, and you can easily add in some fun accessories to elevate it further – we're thinking flowers, feathers and ribbons.
Hair tinsel
Accessories like hair tinsel are an absolute staple for festival hairstyles. They look gorgeous on their own or woven into other hairstyles like braids and twists. Hair tinsel looks amazing in the festival sunshine, catching the light and accentuating your look.
Slicked back
Festival hairstyles don't come much easier than this! Perfect for when hair is looking a little worse for wear, a slicked-back style looks chic and cool and is ideal for keeping hair out of your face so you can dance the night away.
How to get your hair ready for festival season
Getting ready for a festival is exciting; planning outfits, packing your bags, and gathering up your friends is all part of the festival experience.
Although festivals are incredible, they aren't exactly the best place to look after your locks. So in the weeks leading up to the festival, you should start getting your hair healthy and prepared.
With the right preparation and TLC, your hair will be healthy, strong, and ready to look amazing in the fields.
Hair mask
Regular hair masks are great for keeping your hair shiny and healthy. They are super easy to do, simply apply after shampoo and leave on for 5-10 minutes, then rinse. Results can be seen instantly, with hair looking sleek and feeling nourished. Using a hair mask two to three times a week will really benefit your hair and get it nice and healthy ready for festival season.
Trim
Having your hair trimmed regularly is one of the best ways to keep your hair healthy. A trim every six to eight weeks helps keep split ends at bay and helps hair feel and look amazing. Tempting as it is to think: "how hard can it be?" and try out the DIY haircut, we always advise going to a professional who will know what's best for your hair.
Balayage
Balayage is a great way to add brightness and dimension to your hair without committing to a full bleach blonde. This colour technique looks amazing on all hair lengths and is the perfect look for summer. A gorgeous balayage will also add more interest to all those festival hairstyles.
Hair extensions
Hair extensions are perfect for creating additional length and volume. For festivals, clip-in hair extensions are ideal for a temporary new look to help you create even more festival hairstyles. Why not use a clip-in ponytail to give the high ponytail look even more impact?
How do you manage your hair at a festival?
Even with the right preparation, you'll still need a helping hand keeping your hair in check when you're at the festival. If you aren't able to wash your hair, you can still keep your hair looking great with a few handy products and accessories.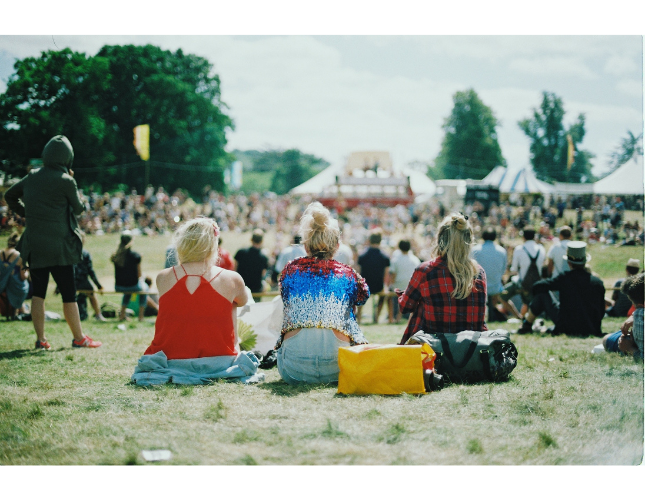 Dry shampoo
A true staple, dry shampoo will be your best friend at a festival. This multipurpose hero helps to keep hair looking clean and fresh and provides volume for creating all those gorgeous festival hairstyles.
UV protection
One very important thing to remember is protecting hair from UV rays. Not only does your hair need sun protection, but your scalp does too. Getting a sunburnt scalp can be really sore, yet it's often an area we neglect when applying suncream. So make sure you apply SPF to your scalp regularly, and wear a hat to protect it from harmful UV rays.
Leave-in conditioner
If there's room in your bag for a leave-in conditioner, it's a really helpful product to take. It's very easy for hair to get tangled and unmanageable at a festival, and a leave-in conditioner can help detangle, de-frizz, and make styling a lot easier. Plus, it makes hair feel soft and nourished.
How should I wear my hair to a festival?
Festivals are an excellent reason to experiment with your look. Whether it's a fun hairstyle, colourful makeup or glittery clothes, it's a great chance to express yourself.
When it comes to choosing a festival hairstyle, anything goes. There are a few things you might want to consider, though. Firstly, the weather. On a really hot day at a festival, wearing your hair up might be a good idea to keep you feeling cool. The length of your hair might be a factor, too. Some styles work better on different hair lengths, so it's good to have an idea of what will work for you before you set off to the festival.
Rock it!
Ultimately, festivals are about having fun. It's about spending time with friends, letting go of your worries and enjoying yourself for a weekend. Although looking good is part of the fun, it's not everything! So try not to worry too much if your hair doesn't look quite right or the rain has spoiled your makeup – it's the experience that counts!
Related Articles
Summer hair colour trends you need to try
Quick and classic styles for hair extensions
How to create a hairstyle with clip in ponytail extensions
Comments are closed here.