Here at Foxy Locks, we're always on the hunt for new and trending hairstyles that help switch up our looks and express creativity. Today, however, we'll be discussing the timeless classic: ponytails. Suitable for every face shape, hair type, and occasion, there's a ponytail look for everyone.
What makes ponytails so appealing?
Ponytails are versatile. For a casual daytime look, to a glamorous evening or date night style, ponytails can be easily dressed up or down. They're simple, quick, and easy to create, making them a go-to style for busy women on the move, those with an athletic lifestyle, or just anyone wishing to sweep their hair out of their face for a quick moment. They're a practical solution for work and play, offering maximum comfort or high glam depending on your desired look. Let's explore their versatility:
Classic ponytail
The most straightforward, no-nonsense style, that works for any event. Brush through your hair to remove any tangles, gather your hair at the back of your head, anywhere between the nape of your neck and the crown, and secure it in place by wrapping an elastic band.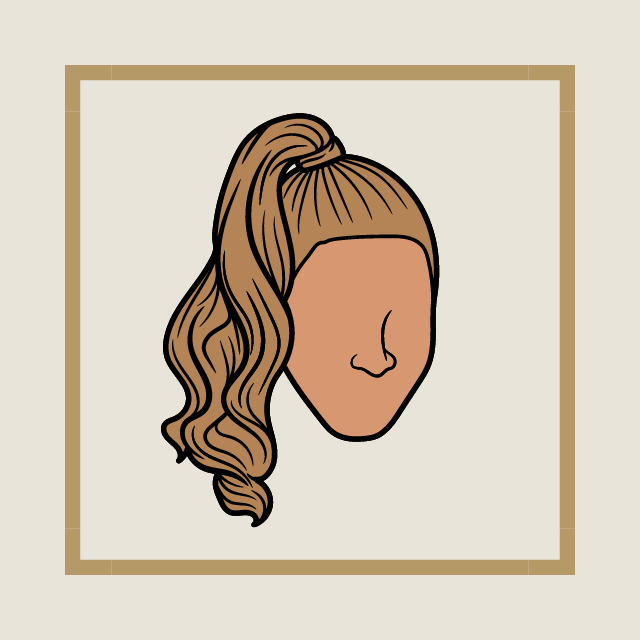 High ponytail
The high pony sits at the top of your head, right on the crown. Following the same instructions as with the classic pony, this style adds instant glamour and sophistication to your look. You may need two elastic bands to secure it in place, depending on the thickness of your natural hair. To disguise the elastic bands, wrap an inch-thick section of hair from the ponytail around the base, and fix it into place with grips underneath. The result is a super subtle, voluminous look.
Low ponytail
Low ponytails sit at the nape of your neck, allowing the hair in the front to drape into place in a chic and understated way rather than being pulled back. This ponytail hair look is perfect for the office, a fancy dinner, or even just running errands. Experiment by pulling out face-framing strands in the front, or using accessories like scrunchies to add some more interest.
Ponytail with extension
The duality of the previous ponytail styles is that they can be uniquely customised and adapted according to your desired look and feel. For an extra swish in your pony, use the Foxy Locks clip in ponytails, to add extra length and volume. The Foxy Locks ponytail hair extensions come in a range of lengths and shades. Being made from premium quality Remy hair, they feel and look as natural as your own, making them super easy to style and maintain! Follow our how-to guide for an effortless ponytail look with hair extensions;
1. Tie your ponytail as you normally would, at the height placement that is most comfortable for you.
2. Take the clip-in extension and slide the grips under the base of your ponytail, making sure your elastic is covered with the hair from the extension.
3. Wrap the shorter section of the ponytail around the gathered hair tightly to fix it into place, securing it with a grip once finished.
4. Use hair spray to finish the look and tame any flyaways.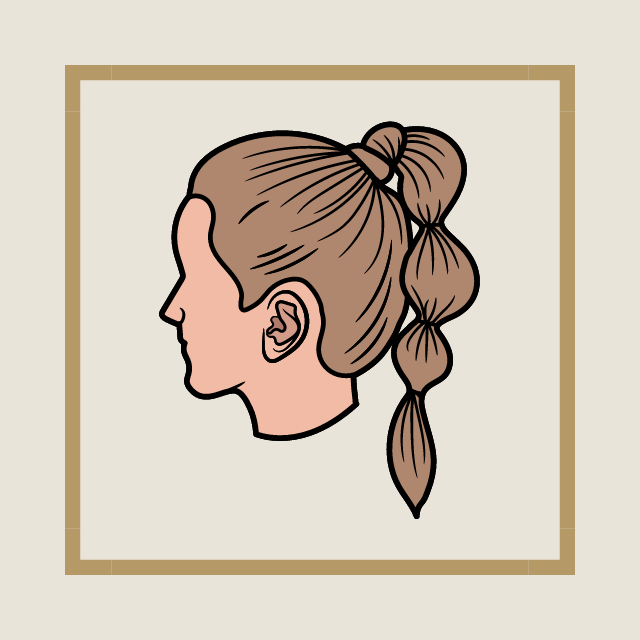 Bubble ponytail
This style is perfect for anyone wanting to make more of a statement with their ponytail look. This adds more dimension and playfulness to a traditional ponytail, but is really simple to recreate.
1. Follow the instructions for a high ponytail, adding in the long ponytail extension if desired.
2. Go down the shaft of the ponytail, tying additional elastic bands down the lengths in equal distance apart until you get to the ends.
3. Between each of the elastic bands, gently tug at the hair to create a bubble effect, manipulating the hair until you have a result you're happy with.
4. You can opt for fewer or more elastic bands for the number of bubbles in your ponytail, and you can experiment with bubble sizes.
Braided ponytail
Braided ponytails can be worn for a variety of occasions, making stunning wedding guests, or summer hairstyles in particular. They're a great option for those with longer or thicker locks, as the braid keeps the hair off the neck and shoulders in warmer weather.
1. Section your hair in the ponytail into three equal parts.
2. The outside section crosses over the middle section to become the new middle section and then the outside section on the opposite side crosses over the middle section to take its place again.
3. Weave down the length of the hair, alternating the crossing of sections until you have a braided pattern.
4. For those that aren't beginners to braiding, you can experiment with fishtail, dutch, or five-strand braids, increasing in complexity to challenge yourself!
Slicked ponytail
All of the ponytail styles listed above can be made into slick back looks, by applying gel or other styling products, such as hair oil, of your choice to fix the hair flat to the scalp. We have complete guides on slick styles here for you to enjoy a full explanation.
That's the complete guide to ponytail hairstyles, we hope you enjoy! Let us know on socials what styles you'd like us to teach next, and keep your eyes peeled for our upcoming styling guides and tutorials.