If you're not in the know with one of the biggest style and beauty icons of this generation, Matilda Djerf is the ultimate Scandi cool girl and creative director of Swedish fashion brand Djerf Avenue. She has built a following of over 3 million on Instagram with her effortlessly chic dress sense, stunningly curated feed, and gorgeous bouncy blow-dry. Entrepreneur, social media sensation, trend setter and Vogue cover star, there really is no stone left unturned for this multifaceted mogul.
Matilda Djerf is the epitome of having personal style, with a uniform of tailored blazers, relaxed shirt and jeans combos, and simple slip dresses. As the poster girl for her own brand, Matilda has long been a staple icon on many a Pinterest inspiration board.
In this blog we explore how to achieve the Matilda Djerf hair of dreams, with the products and tools you need to replicate her locks at home.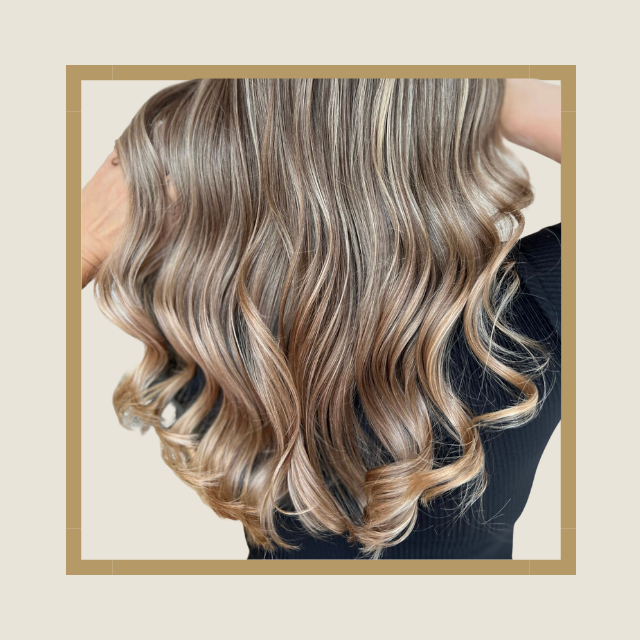 Colour
Matilda's hair is a beautiful shade of bright, honey blonde. She has been open about her hair colour journey in the past, stating that her Scandi hair is much darker in winter months and becomes sun bleached during the Summer. Wanting to have the sun kissed appearance all year round, Matilda opts for babylights – a much more natural approach to traditional highlights where smaller, finer sections of hair are weaved out and bleached lighter. Because of the technique, there is no visible or harsh line where the regrowth of the hair's natural colour presents itself. The result is a dimensional deeper root, seamlessly blended into brighter ends.
Cut
Matilda Djerf has been likened to many icons of decades gone by, such as supermodel Cindy Crawford and actress Brigitte Bardot. Her signature haircut combines nineties layering, seventies Abba-esque volume and dainty curtain bangs of the sixties, with a modern day twist. Now known as a butterfly cut, long layers frame the face in a low maintenance, easygoing fashion. This hairstyle is perfect for people who want to change up their look, without committing to losing any major length. Layers add easy volume to flat hair, which also aids in the styling process.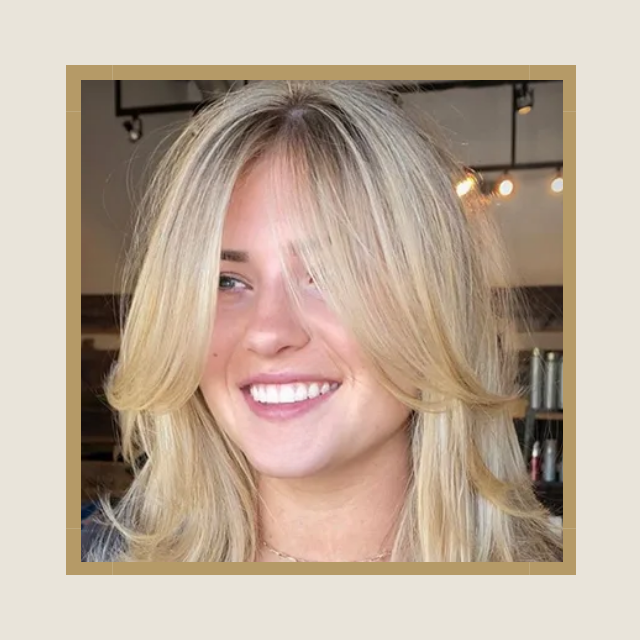 Bangs
#MatildaDjerfHair has racked up 142.7 million views on TikTok, with Matilda's own Stockholm based stylist Maria Nila creating video content to showcase how to cut the iconic curtain bangs. Hair is swept to either side of the forehead and cut with the scissors facing downwards rather than horizontally to create bangs that are light and feathery in texture. In the center of the fringe, hair falls just below the eyebrow, with the length increasing outwards towards the temple to fall at the top of the cheekbone. Couple this with some shorter, ear and chin length layers around the outer perimeter of the face and you have the perfect face frame.
Styling
Matilda is known for her gorgeous bouncy blow-dry, the glamorous 'it girl' style of the 2020's. It would probably come as no surprise that Matilda uses the Dyson airwrap for those pretty, flicky ends. Using different attachments is the trick to this look, using a round brush on the front section and bangs and a wide barrel for the mid lengths to ends. If you don't own the Dyson, worry not! A traditional hair dryer and round brush will help you to achieve the same results – check out our guide to creating the perfect bouncy blow dry. Make sure to use Velcro rollers to cool and set the look in place, and abundance of hair spray to hold all day. If you have naturally fine or flat hair, try a texturizing spray or powder at the root for added height.
Another technique for added volume and texture is reverse hair washing. This is exactly what you suspect: giving your wash routine a switch around. Hop in the shower and start by conditioning your locks first. This is said to help your locks absorb the nourishing ingredients better, following up with a cleansing shampoo afterwards to remove the weight of product and oil buildup. Although it might seem unconventional, try this out for weightless, gravity defying bounce and volume!
Voila! That brings us to the end of our Matilda Djerf hair guide. Although we cannot guarantee an overnight transformation into the icon herself, we can certainly try! We admire Matilda's tastemaker status and down-to-earth nature, setting the perfect example for being a multi-talented business woman and style muse to her millions of followers.