Reading Time: 4 mins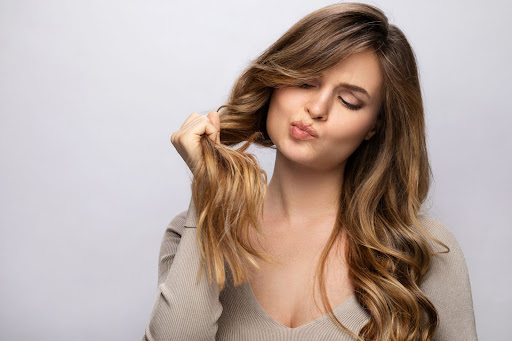 Whether your hair is naturally short or you've grown tired of your newly bobbed hairstyle, a set of clip-in hair extensions could be just what you need to enjoy the best of both worlds. Without the commitment of permanent extensions and zero damage to your hair, clip-ins can often provide the perfect solution to add some length to your shorter locks.
Putting in extensions can seem like a breeze for those with longer hair. With shorter hair, though, you'll need to pay extra attention to the details if you want to master the art of getting the perfect, natural-looking blend. Shorter hair can often make extensions appear more obvious, but with our expert advice, you'll be swishing your newly lengthened hair with confidence in no time at all.
We have plenty of tips to help you to blend your extensions seamlessly with your natural hair. Read on to find out what you should note when styling yours.
How to make extensions look real in short hair
Follow these steps to transform your short hair into beautiful long locks.
1. Opt for thick hair extensions
If you're looking for clip-in hair extensions to wear in your short hair, choosing a set that is on the thinner side may seem like the obvious choice at first. However, using natural or thin-looking styles will make the contrast between your natural hair and your extensions even more noticeable. It's important to always go for a thicker set to seamlessly transition from shorter to longer pieces.
For a person with shorter hair, the more extensions you have, the better you can style your look. If you are unable to find an option that is thick enough, consider buying a second set. By opting for another extension set shorter than your original one, you can layer your hair for an even more natural look.
2. Start by pinning your hair's underlayer
To hide those pesky telltale strands of shorter hair that typically appear at the nape of your neck, be sure to pin up your hair's underlayer before you begin clipping in your extensions. Section your hair to leave a small section at the bottom and clip the rest of your hair away. Back-comb the remaining section, then twist or braid it and use bobby pins to secure it flat against the nape of your neck.
This hack provides an ideal starting point for you to clip in your first weft of extensions. The pinned section of hair helps the clips grip the hair more securely, reducing the risk of them slipping out of place later on. Once you've finished putting in the rest of your extensions, the pinned section will be hidden from view.
3. Distribute your extensions higher than usual
Short hair can be tricky to work with, as there is a higher likelihood that your extensions might not look as natural as they typically would in longer hair. To combat this, make your extension placement a little higher on your head than you usually would. As you build up your extensions, your natural hair will look longer and thicker, resulting in a beautifully subtle blend.
For added hold at the roots, tease each section of your hair by backcombing the strands before you clip in each piece. This will help the clips to stay in place while introducing even more volume to finer hair to achieve the perfect look.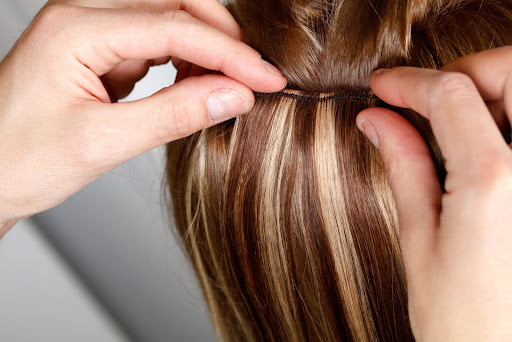 4. Mix and match your colours
Another important factor for making your hair extensions look natural in short hair is the colour you opt for. You can choose to get an exact colour match if you prefer your hair to remain all one colour. The only drawback is that it may be easier for those with shorter hair to see where your natural hair ends, and the extensions begin.
We recommend using two different colours to trick the eye by adding dimension and depth to the hair, especially if you already have highlights or multi-toned hair. If you're buying two sets, go for your natural colour with the first and a slightly lighter tone for the second. This will allow you to alternate the colours and create a blend that transforms the look of your short hair.
5. Add volume with curls
To get the right transition between your hair and your extensions, it's important to style them both in the same way. Before you put them in, curling your extensions will save you time and make styling your hair much easier. Your natural hair type can often be different to the extensions, so they will take different lengths of time to curl. By curling them separately with a hair tool, you are guaranteed to achieve a more even result.
Once they are curled, you'll need to put in your extensions and blend them with your natural hair. Use a curling wand or straightener to curl each of your shorter strands with a piece of the longer ones. Lastly, curl the top layer of your hair to achieve a flawless finish.
Here at Foxy Locks, we know that using hair extensions in short or thin hair can sometimes be a challenge, but with our tips and tricks, you can create a gorgeous, lengthened look with minimal effort.
We offer a premium selection of Remy clip-in hair extensions in various colours and lengths, so it's easier than ever to find your shade.
Comments are closed here.