Dua Lipa is not only a Pop angel, but a fashion and beauty icon and all-round 'It' girl. She has risen to fame over the last decade for her highly decorated musical career and has produced incredible disco influenced tracks that we all know, love and sing along to.
Dua Lipa is the ultimate cool girl. From her recent co-designed collection with Versace, her 'At Your Service' podcast series, and her cameo in the Barbie movie, Dua is a true force in popular culture. With 88 million followers on Instagram alone, her social impact is wide and far reaching.
Experimentation with self-expression and putting together creative looks for her live concerts, red carpets and fashion events is key to Dua's thriving career and relevance. For this, she often changes up her hair styles, colour and length. In this blog, we explore some of her most famous hair looks and how to achieve them.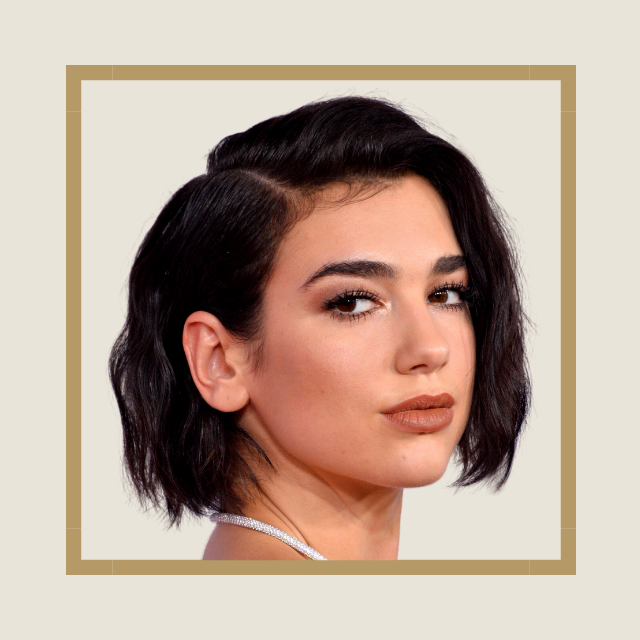 Short Hair
For a more edgy Dua Lipa inspired look – you could opt for one of her shorter hair styles. If there's ever a person that could better pull off a textured bob, it's Dua. Achieve a similar beachy wave by using our 32mm hair curling wand and following these instructions:
Start on clean, dry hair. Brush through to detangle and use a heat protectant product prior to styling to prevent damage.
1.Section the hair and clip the top part out of the way while you work on the bottom.
2.Take a small piece of hair, approximately 1 or 2 inches wide. The smaller the section, the tighter the curl.
3.Place the curling tong about halfway up the piece of hair, and wrap the hair around the barrel. Hold for about 5-10 seconds.
4.Release the curl into your hand and hold until cooled. This will set the shape of the wave for maximum hold.
5.As you work around the head, alternate the direction that you wrap the hair around the curling tong. This will give you the natural, textured look we're trying to achieve.
6.Repeat the process all over the head for both the top and bottom sections.
7.Once fully curled, use your fingers to separate into waves. Use a salt-spray or light-hold hairspray to customize the look and hold in place all day.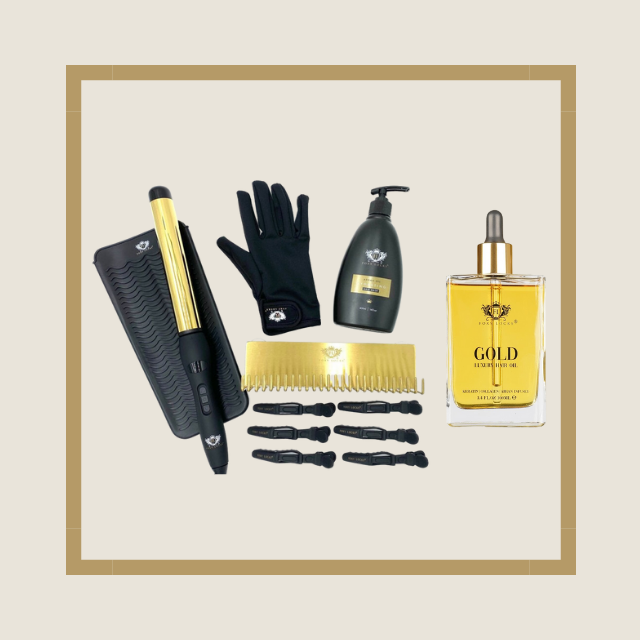 Face Frame Updo
The face framing tendrils have been a huge hit on the red carpets of the 2020's, and Dua Lipa is no exception to the trend. Inspired by the popular looks of the nineties and noughties, the face framing sections have a romantic appeal. You can style the face frame with any updo of your choice, whether it's a messy bun or a slick ponytail, it is versatile for all hair types. Recreate the face framing updo with these instructions:
1.Start on clean dry hair, straighten your locks for maximum sleekness.
2.Brush through and apply a small amount of Foxy Locks Luxury Gold Hair Oil to reduce frizz and nourish your hair.
3.Section out two face framing tendrils at the front of your hair in your desired thickness. Clip these out of the way whilst you work on the back.
4.Create a base ponytail by gathering your hair at the middle back of your head and securing with a hair elastic. Make sure the hair is smooth, and the ponytail is tightened in place.
5.Clip in your ponytail extension by sliding the clip under the top of the ponytail, and wrapping the small piece of hair around the base.
6.Grip the ponytail in place to secure the look, ensuring the elastic below is completely covered. Brush through to blend the extensions and your natural hair into one.
7.With the tendrils at the front, middle part to create two face frames. Smooth these into place and spritz with hair spray to hold all day.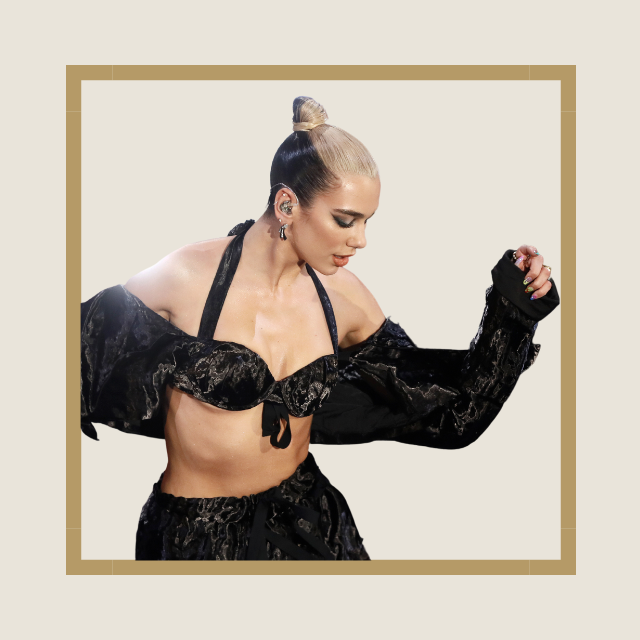 Split Dye
Although she's gone back to her darker roots, there was a period when Dua was most known for her blonde split dyed hair. Consider her the trend setter of the two-toned look, after she debuted it in 2020 it then became a huge craze on TikTok with many recreating the style.
The split dye is a great way to add a unique touch of colour to your locks without the commitment of a full head. You don't even need to be as dramatic with the contrast as bleach blonde and brown black! For a more subtle take on this look, you could opt for two shades that are slightly lighter or darker than each other.
We recommend going to a professional stylist or salon to have your hair dyed or bleached. In this era, Dua had just the very top layer of hair around the parting coloured. Take a reference photo with you to your consultation or appointment to visually convey the look you're trying to achieve.
Bangs
Dua Lipa has experimented with many different styles of bangs throughout her fame. From a heavy, blunt fringe, to a long and wispy waterfall fringe and side-swept 'French girl' fringe, Dua has dabbled in them all.
For Dua's 'Demeanor' music video, she exhibited a short fringe with waist length extensions in a half up-half down bow style. Although it's not a day-to-day look, we can take inspiration from the gorgeous lengths by using Foxy Locks Remy Clip In Extensions.
Celebrity stylist Lucas Wilson created Dua's side swept fringe look for the Albie Awards in 2022. This look is the cousin of the curtain bang, effortlessly glamorous and flattering around the face and eyes. The 'French girl' aspect stems from having a tousled, low-maintenance approach, resulting in a textured softness that is unintentionally chic.
Although Dua Lipa has many phenomenal looks, both in her casual off duty sense of style as well as her glamorous A-list events, we couldn't possibly cover them all! She is a visionary in music and fashion, and we can't wait to see what comes next for her.