Christmas is coming! As we approach the festive season, it's time to get prepared for good food, gifts and parties galore. Add a touch of glamour to the office soirée and fill your stocking with Foxy Locks Remy hair extensions and care products – the perfect presents to yourself or a loved one! In this blog, we'll explore the perfect party hairstyles for the holidays, and how you can achieve them using our clip-in and tape-in extensions.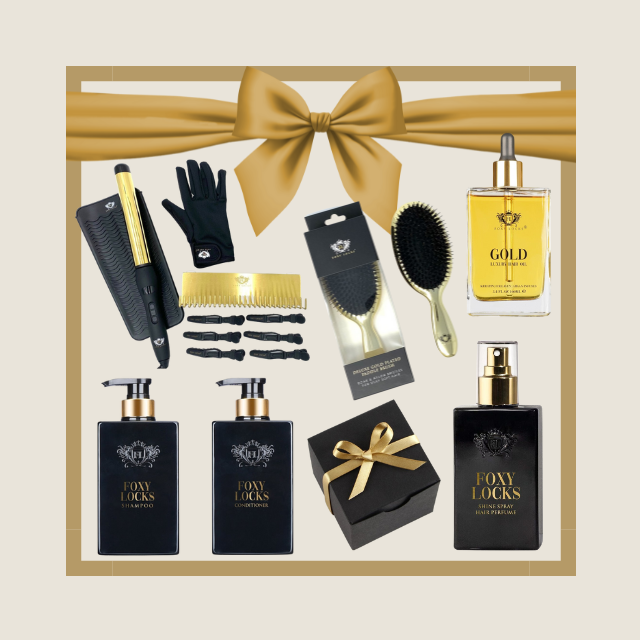 Hair Prep
It's important to begin the styling process with a solid foundation of clean, dry hair. For hair that looks healthy and shiny, use our Luxury Duo Shampoo and Conditioner in the shower to nourish and restore your locks. Infused with Argan Oil and perfume boost, your hair will feel silky soft and leave a beautiful scent trail wherever you go.
Follow your hair wash routine by using a heat defense product on damp locks before blow-drying. We recommend our Gold Hair Oil. Ingredients work in harmony to provide deep conditioning and hydration, repairing damage and guarding it from future harm. Simply rub a few drops into your hands and distribute evenly throughout your lengths.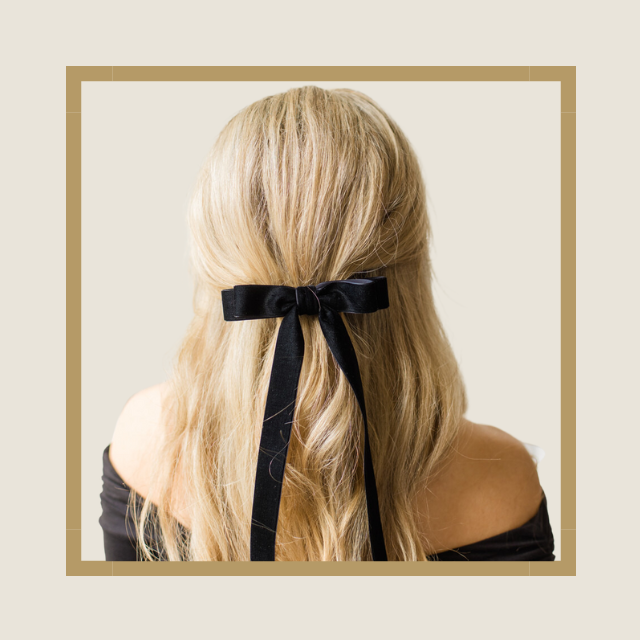 Sleek Pony & Velvet Bow
This is a sophisticated look for glamorous individuals celebrating the Christmas season. This style is a contemporary classic, with the velvet bow accessory bringing a timeless elegance to the look.
1.Part your hair into manageable sections and apply a small about of smoothing serum to control frizz.
2.Using a straightening iron, run through the lengths of your hair in sections to ensure every strand is sleek.
3.After straightening, use the end of a tail comb to part your hair down the center of your head. Brush into place to remove any tangles.
4.Using your comb, guide the hair into a low ponytail at the nape of your neck.
5.Use a gel or more serum to smooth out any bumps, fixing into place with an elastic band.
6.Now is the time to add your Velvet Double Ribbon bow. Slide this in just above where you've tied the ponytail, covering the elastic band beneath.
This hairstyle can be worn to both casual family gatherings and formal office parties, showing the versatility and impact of well-chosen accessories!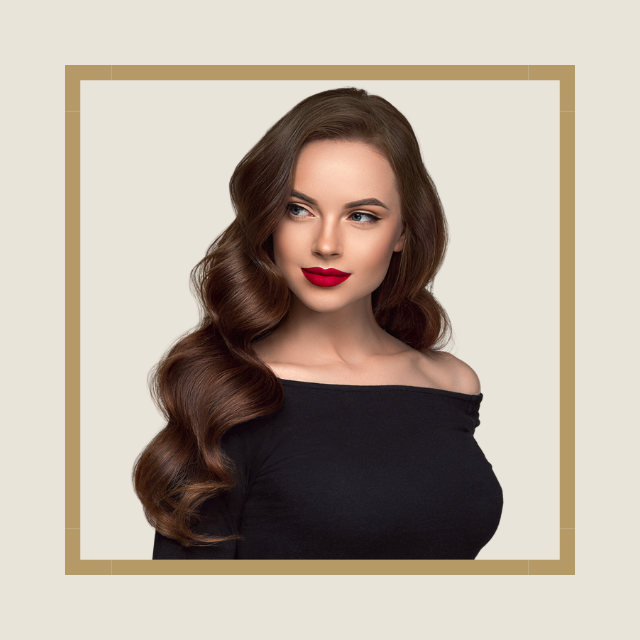 Classic Hollywood Waves
Hollywood waves are the epitome of glamour, exuding red carpet luxe. Soft, cascading waves frame the face and pair beautifully with a Marilyn Monroe inspired red lip.
1.Texturize the hair using a volumizing mousse to add grip throughout your lengths.
2.Separate your hair into sections to enable a more manageable styling process.
3.A curling iron with a clamp will create perfect, defined waves. Work in small sections, wrapping the hair around the tong away from the face.
4.Hold in place for 10-15 seconds to fully set the curl in place. When you release the curl, be careful not to disturb its shape.
5.Once loose, you can recoil the curled hair up around itself using your fingers and pin in place to cool. This will give you even more longevity without the style dropping.
6.Once you've worked round the entirety of your head and all curls are clipped and cooling, it's time to style your extensions in the same way.
7.Place your Remy clip-in hair extensions on a holder to make the styling process much easier.
8.Use your tong to curl the extensions in the same direction as your natural locks. Again, pin these in place to hold their shape whilst you work through the wefts.
9.Once you are finished, unclip your natural hair and brush out the curls with a soft-bristle brush. This creates the flowing waves authentic to the Hollywood style.
10.Part your hair on a deep side parting, and clip in your extensions according to this placement to disguise the wefts.
11.Spritz in a light hold hairspray to tame flyaways and ensure durability. You could also tuck hair behind the ear to open up your face.
Classic Hollywood waves are a celebration of the golden-age of movie icons and starlets, this look is sure to turn heads.
Tinseled High Ponytail
Nothing says festive party hair like a touch of tinsel. Hair tinsel is the perfect, subtle way to add sparkle and shimmer without going overboard. Upgrade a regular high ponytail look by adorning your locks with a contemporary twist.
1.For a super slick look, straighten your hair after washing and drying. Apply a small amount of serum to tame flyaways and add shine.
2.Brush your hair thoroughly to remove any tangles, then flip your head upside down to gather into a high ponytail position.
3.The placement of your ponytail will depend on your personal preference, anywhere from the middle back of your head to your crown is ideal.
4.Secure in place with an elastic band, ensuring it is tight enough to hold the ponytail in place without causing discomfort.
5.Now is the time to attach the tinsel. Fold the tinsel strand in half and tuck the loop through the elastic band, push the strands through the loop on the other side and pull until tightened in place. Repeat this step with as much tinsel as you desire.
6.If you find that your ponytail is lacking in length or volume, why not try our range of Remy ponytail extensions? Simply straighten the extensions to match your natural hair and add the tinsel to the ponytail prior to attaching it to your hair.
7.For natural ponytails, take a small piece of hair from the underneath and wrap around the base of the ponytail to disguise the elastic band and tinsel loops, gripping into place. For ponytail extensions, take the shorter section of hair from the ponytail and wrap this around your base, securing into place underneath.
8.Use a comb to smooth out any bumps and set in place with hairspray for a firm hold all night long.
This elevated ponytail look will have all the partygoers talking – perfect adding a magic touch over Christmas and New Year's celebrations.
Let us know if you attempt any of these hairstyles, tagging us on socials @FoxyLocks if you recreate these iconic festive looks!