Reading Time: 4 mins
Hair lacking volume and longing for more bounce and body? The solution could lie in your blowdry! If you're not blessed with natural volume, achieving big, bouncy hair should start right at the beginning of your hair routine. Picking the right shampoo and conditioner for your hair type is the first step; second is your blowdry.
Want to learn how to do a salon-worthy bouncy blow-dry that keeps your locks volumised all day? Here at Foxy Locks, we've got the low down on how to blow dry your hair at home and say goodbye to limp locks. Read on for our 5 simple pro tips!
How to Blow Dry Hair For Volume
Tip 1: Use Volumising Shampoo & Conditioner
To get a bouncy blow-dry at home, you first need to ensure you're using a volumising shampoo and conditioner or a light cleansing shampoo to suit your hair type. Particularly if you have fine hair, heavy shampoo and conditioner can end up weighing it down and make your blow-dry less effective.
Tip 2: Towel Dry First
Our next tip on how to blow dry your hair is to partially dry your hair first before you start blowdrying it to get rid of excess moisture. One of the biggest mistakes people make when it comes to blowdrying is going straight in with wet hair. Not only does this mean you're applying damaging heat for longer, but it also makes your job harder and more drawn-out. We suggest aiming for about 60% dry before you start with your brush and hairdryer.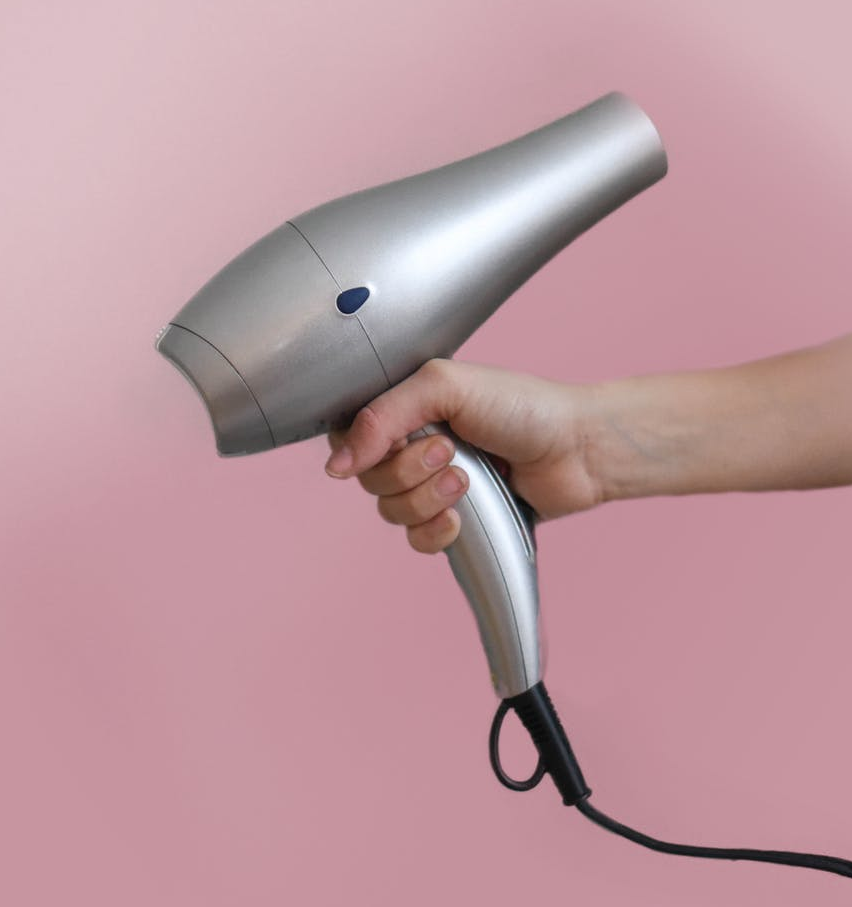 Tip 3: Lift the Roots
Whether you have half an hour or 5 minutes to achieve a bouncy blow-dry at home, you can make all the difference to your tired tresses by focusing on creating volume at the roots. Our top tip when it comes to how to blow dry hair for volume is to blow dry your hair against its natural direction in order to prevent it from lying limp against your scalp. You can do this with a brush or with your hands if you don't have time for a full blowdry! It's a quick and simple way to add some extra oomph and ensure all your roots are lifted.
If your hair tends to go flat throughout the day, try incorporating root-boosing products into your blowdry routine before you style.
Tip 4: Use a Barrel Brush
To get salon-worthy waves with a blow-dry, your best bet is a round barrel brush. It might look hard to get the hang of but, with a bit of practice, you can achieve that just-left-the-salon look every time you blow-dry at home.
To blow dry at home with a barrel brush:
Section your hair by tying the top half up into a top-knot and focusing on the bottom half first. This will help ensure maximum lift and that your bouncy blow-dry is even and not just the top layers of your hair. If your hair is thick, you might want to do three sections instead of two.
Taking a medium-sized section, place your brush under your hair at your roots and turn it through your hair to the ends, heating it with your hairdryer as you go along.
Without letting the hair go, curl it back up to your roots and focus the heat there for a few seconds before giving it a blast with cold air to set it.
Gently unwind your brush from your hair and you should be left with a soft curl.
Once you've done your bottom section, clip this back and out of the way and take down your top section to start the same process, taking care with the front sections to frame your face.
Once you've finished the entirety of your hair, gently run your fingers through and add a spritz of hairspray or argan oil to prevent your waves from dropping.
Tip: If you have long hair, opt for a large barrel brush. For short or finer hair, opt for a small to medium-sized barrel brush to blow dry at home.
Tip 5: Use Products Properly
Our final tip for how to blowdry your hair at home is to pick the right products for your hair type and not under or overuse them! Before you start using heat, you should always give your hair an even spritz of heat protection spray to prevent heat damage.
Hairspray is great for holding your volume but, particularly if you have fine hair, applying too much can actually weigh your hair down and cause your bouncy blow dry to drop. Remember to spray about 12 inches away from your hair to get even coverage and avoid that dreaded crispiness. If your hair is straight and fine, using a little mousse or salt-spray can also work wonders for creating texture and volume.
And there you have our 5 top tips on how to blow dry hair for volume! Now you know how to blowdry your hair, you can achieve that coveted bouncy blow dry look from the comfort of your own home every time you style your hair. Watch our style videos for inspiration on your next hairstyle.
Want extra length or instant volume? Check out our full range of premium-grade Remy human hair extensions here at Foxy Locks and make bad hair days a thing of the past.
Related Articles
How to blow dry your hair extensions
How to choose the best hair products for your specific hair type
10 hairbrushes that are perfect for unique styling
Comments are closed here.