Highlights, lowlights, diplights, babylights, ombre, balayage, the list goes on! There is an abundance of methods to colouring hair to add natural looking depth and dimension, blend several shades, or transition from darker roots to lighter ends.
We've composed this guide to talk you through the different techniques of colouring hair, how to achieve your perfect match hair extensions, and how to take care of highlighted or ombre hair.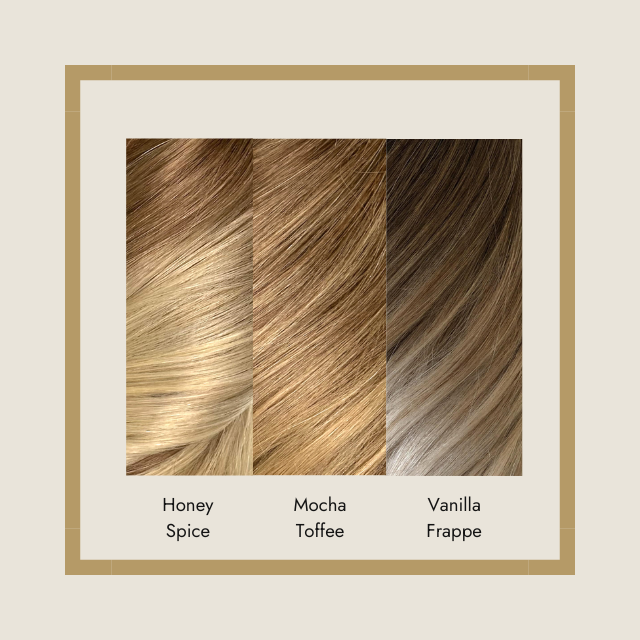 What are the different techniques?
Highlights are small sections of hair that have been lightened to contrast with your natural colour. Often placed around the crown of the head or to frame the face with a complimentary sunkissed look.
Babylights is a technique that involves weaving very fine strands of hair into foils and applying a lightener to create subtle, delicate highlights. These are perfect for those who want a low-maintenance, natural-looking colour that grows out gracefully and requires fewer touchups.
Diplights are a blend of traditional highlights and babylights, to create a dimensional, graduated effect. Babylights are applied to the root of the hair, whilst highlights are blended from the mid-lengths to the ends.
Lowlights are the reverse of highlights, with hair being coloured darker to compliment that natural shade and add more richness and depth to the hair.
Ombre is the process of creating a transition from darker roots to lighter ends by dying the hair. Lightener is typically applied to the ends and blended upwards to create a gradient.
Balayage is a colouring technique that involves hand painting the hair to achieve a natural-looking alternative to ombre. It can be customized to the individual and allows for a seamless grow-out depending on the desired appearance.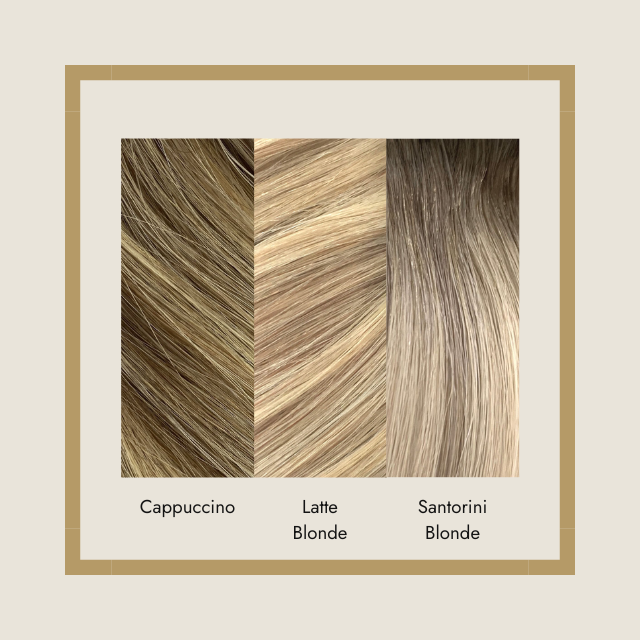 The Foxy Locks shade range
Iced Latte – Cool-toned, icy shade of blonde with bright white highlights. One of the lightest shades in the Foxy Locks range, for a creamy neutral look.
Sandy Blonde – A natural golden blonde for a warmer-toned alternative. Classically Rapunzel-esque with lighter highlights through the hair for a seamless blend of shades.
Cappuccino – A perfect bronde shade for transitioning between brunette and blonde. Cool-toned, almost grey that completely neutralizes brassier tones with chunkier highlights.
Latte Blonde – Beautiful blonde shade with multiple highlights and lowlights for stunning depth and dimension.
Santorini Blonde – Cool-toned blonde with a darker root for a beautiful balayage look. Blends perfectly between lightened hair and natural regrowth.
Sunkissed – A mix of chocolate brown hues with subtle blonde highlights to create a light but rich brunette.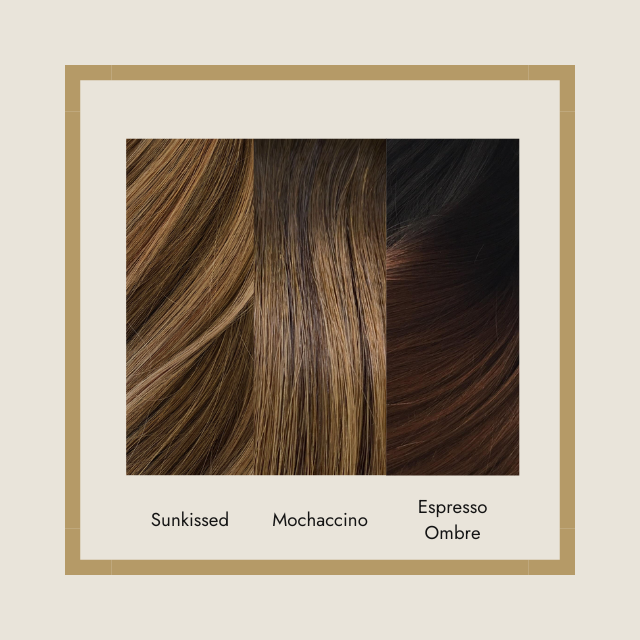 Mochaccino – Dark brown with caramel highlights to create a stunning dark bronze. A perfect balayage finish blending some lightness into your lengths.
Espresso Ombre – This black coffee root meets deep chocolate ends to bring a touch of lightness to what's otherwise one of the darkest shades in our product offering.
Honey Spice Ombre – aptly named, this warm-toned syrupy brown meets a rich blonde end in a transition from one golden shade to another, lighter version.
Mocha Toffee Ombre – Warm-toned chocolate brown fades into a toffee blonde for this ombre shade that looks good enough to eat!
Vanilla Frappe Ombre – Cool-toned dark brown fades into a light ash blonde for this shade, perhaps the most dramatic of colour transitions in our offering.
Caring for your highlighted hair
As with any chemically coloured hair, it is important to take the best care of your lengths (and extensions!). Hair that has been bleached lighter or dyed darker is more prone to breakage if it's not well maintained. Here are our best tips to ensure your highlighted locks are in their best condition:
Choose colour-safe shampoo and conditioners for your hair and extensions, we recommend our shampoo and conditioner duo. These products help preserve fresh highlights and maintain the overall health of your hair and the quality of your extensions.
Treat your hair with a nourishing hair mask every couple of weeks to restore moisture, reduce frizz, and maintain the vibrancy of your coloured hair.
Limit the use of hot tools on your hair and apply heat protectant products before using any heated styling tool. This will prevent unnecessary damage and colour fading.
Wear a swim cap in pools so that the chlorine can't alter your hair colour. Blondes especially tend to turn green after swimming so be mindful of dunking your head! It is also recommended to remove your clip-in extensions before going swimming.
When in doubt, visit a professional! Your hair health is the number one priority. Always seek professional advice when colouring your hair to keep the highlights fresh and vibrant.
Highlights are versatile and can be customised to suit any hairstyle, length, shade or preference. They add dimension and depth to enhance any base colour and can have a stunning, natural appearance when the appropriate technique is used.
If you're looking to add extra length and luscious thickness to your highlighted or ombre hair, make sure to check out our range of clip-in and tape-in hair extensions. If you need any assistance with matching your hair to one of our shades, do not hesitate to get in touch with our team. We're always happy to help!