Hair extension wearers, new and veteran, can agree that the world of hair extensions isn't always sunshine and rainbows. Whilst they look stunning, add extra length and gorgeous volume, sometimes things just aren't quite right.
Whether you can't seem to achieve a seamless blend, you're experiencing discomfort, or your hair extensions aren't lasting, we've identified some of the common reasons you might run into problems with your hair. But worry not – we also know the solutions!
Think of us as your 'hairy' godmother - this blog will delve into how you can achieve your dream lengths every day, requiring minimal effort in the process.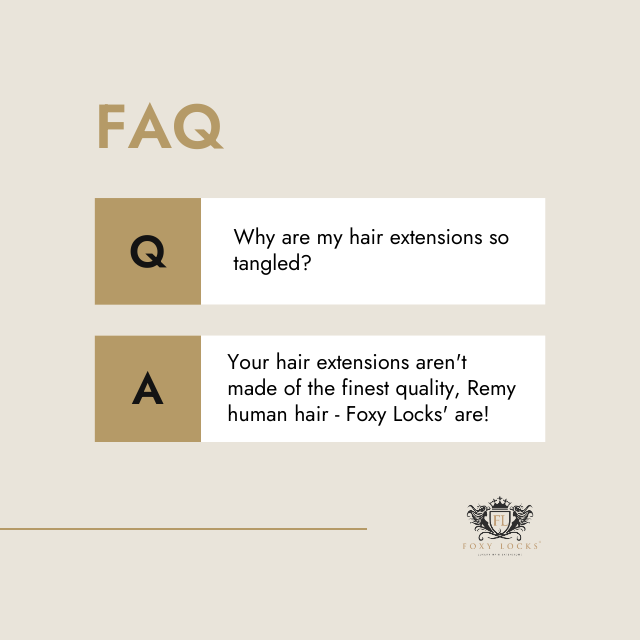 1. The hair extensions quality
Starting out on your hair extension journey can be an overwhelming experience. There is an abundance of different brands, extension types, materials, and quality on the market. When selecting where to purchase your hair extensions, it's important to consider the following factors:
Clip in hair extensions are temporary hair pieces that are attached and removed using small clips. They secure to your hair in small wefts that blend seamlessly without needing permanent installation. They offer versatility and convenience for special occasions or as part of your daily routine.
Tape in hair extensions are a semi-permanent hair extension solution. The extensions are sandwiched between small sections of your natural hair. They are famed for having a discreet appearance, lasting for several weeks before needing to be repositioned or replaced.
Synthetic hair extensions are made of man-made fibres like acrylic or nylon. They often have an unnatural-looking sheen and tangle easily. Because of the difference between plastic and natural hair, they don't blend as easily. Luckily, all the hair extensions we offer at Foxy Locks are made of the highest quality Remy human hair. All the cuticles flow in the same direction to ensure they are tangle-free and silky soft to touch.
To ensure a long-lasting extension, the wefts need to be tightly sewn for minimal shedding. The ends of your hair extension are a big factor in whether they appear natural or not, as they need to have fullness throughout the entire length. Foxy Locks prides itself on bespoke design to guarantee both of these, blending seamlessly to give your natural hair a super thick, lustrously long appearance.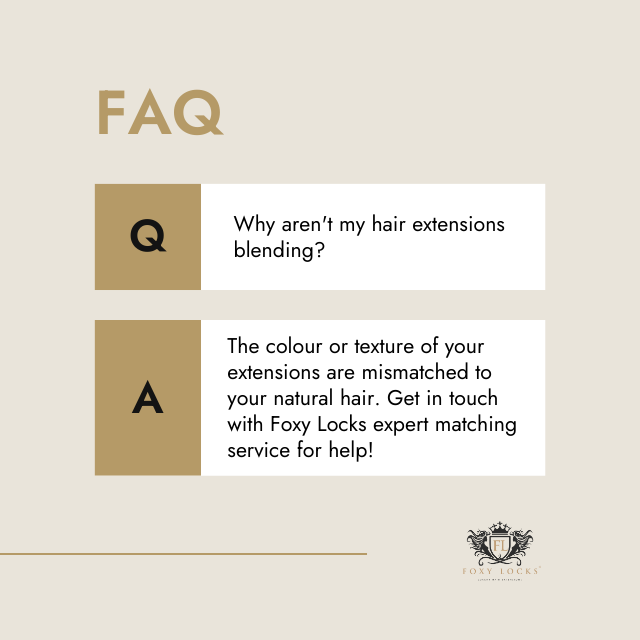 2. Hair colour
Your hair extensions being incorrectly matched to your natural hair colour is a giveaway for wearing them in the first place, defeating the point of them having the appearance of your own growth. A bad blend will be obvious from a clear difference in shade from where your hair stops, and the extension begins. Getting a perfect match doesn't have to be a chore, however! Leave it to our expert colour matching service, who are always on hand to provide guidance on the correct colour choice.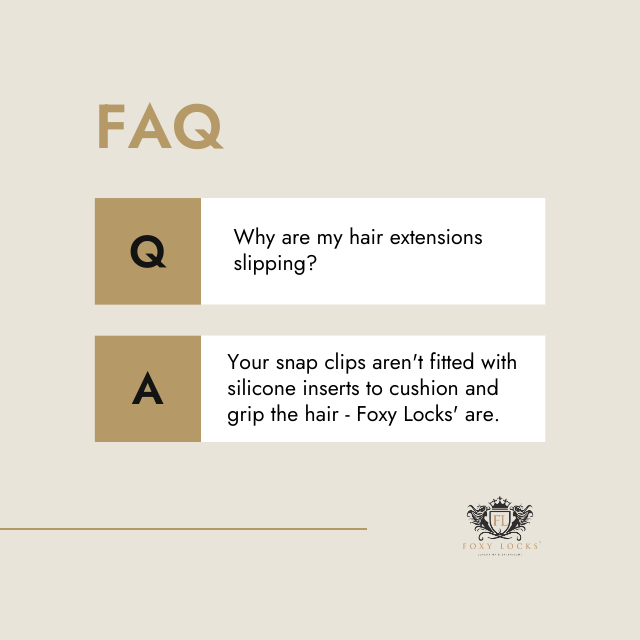 3. Placement and technique
Placing your clip in hair extensions incorrectly can lead to discomfort and annoyance. You need to ensure that they are secured tightly to the root of your natural hair, so they do not slip or come out during wear. If you have fine hair or less grip, you can tease your roots and spritz with hair spray prior to extension application. This will give the clips a great foundation to hold on to. Foxy Locks hair extensions are fitted with sturdy clips with silicone strips to cushion the hair for maximum grip and minimal damage.
For tape in extensions, always seek consultation with a professional hairstylist who will attach and remove your extensions. If they are incorrectly placed, the adhesive could cause friction on your scalp and become itchy or irritated. Foxy Locks LiteTape® extensions offer a matte appearance at the root to have a discreet appearance. They are feather-light to prevent that uncomfortable, heavy feeling and can be styled up or down without feeling bulky.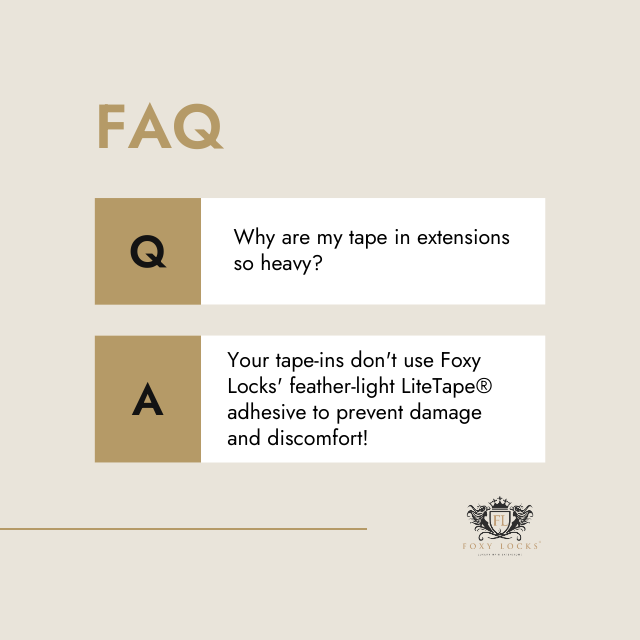 4. Styling
Hair extensions must be properly blended with your natural hair for a seamless look. Once fitted, they may need to be trimmed or layered to match your existing length or style.
Hair extensions come in various textures, such as straight, wavy or curly. If the extensions don't match the texture of your natural hair, blending them can become a challenge. However, if you choose to style your hair, you must do the same to your extensions, which can mean applying lots of heat. Always make sure to use a heat protection product on your natural hair and extensions when using hot tools.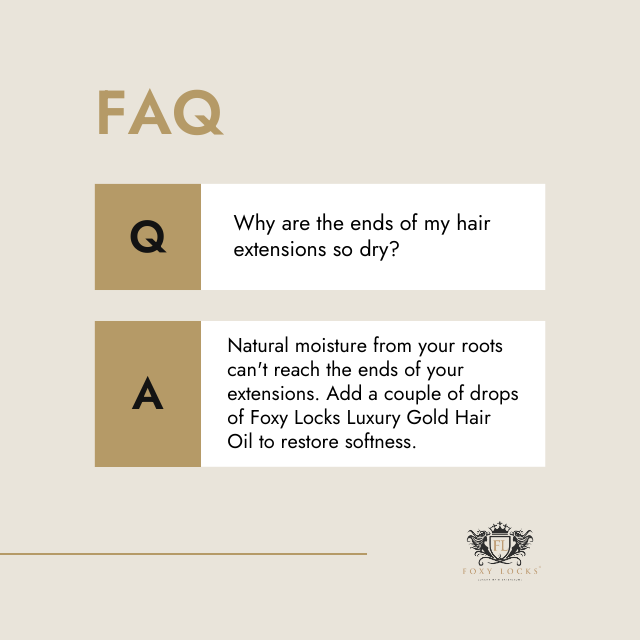 5. Care and maintenance
Hair extensions require proper care to maintain their appearance and durability. Neglecting your extensions will mean they tangle, shed, or lose their lustre. Making sure to wash your hair with specially formulated shampoos and conditioners is paramount to the lifespan of your extension, we recommend the argan oil shampoo and conditioner duo.
Brushing your hair with extensions fitted can be a fiddly task, so ensure that you are gentle and patient. Add a hair oil, such as Foxy Locks Luxury Gold Hair Oil, to your natural ends and extensions so they don't become dry and brittle. The hair oil is infused with argan oil, collagen, and keratin to repair hair and provide strength, nourishment, and elasticity.
That brings us to the end of the five main reasons your hair extensions might not be working for you. Here at Foxy Locks, our aim is to provide all the information you need to feel happy and confident with our luxury hair extensions and aftercare products. If we haven't answered your question in this post, check out our FAQ's section, where the solution could be waiting for you.