Is it true? Do blondes have more fun? With Foxy Locks blonde clip in hair extensions, you could find out!
Foxy Locks luxury range of human hair extensions has the power to elevate your look, adding instant length and volume to help you achieve your dream hairstyles. Our wide shade range suits a variety of dyed and natural hair colours to provide a seamless blend, so we understand if finding your perfect match can be overwhelming!
This guide will walk you through our Blonde range of clip-in and tape-in Remy hair extensions, detailing the differences between each, and presenting you with helpful tips to ensure you find the right match.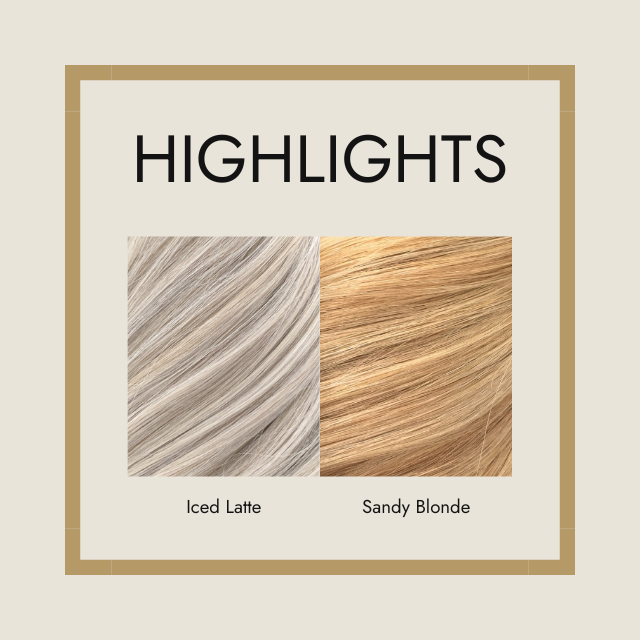 1. Highlights
Foxy Locks offers two shades to suit blonde hair that has lighter highlights.
'Iced Latte' is a cool white blonde shade, with icy undertones. This is one of our lightest blonde shades, with milky highlights adding more depth and dimension to the hair extensions than a singular platinum shade would.
'Sandy Blonde' is a more natural looking, warm toned blonde, with golden highlights. If your hair has a tendency to appear strawberry blonde in natural sunlight, this shade is for you!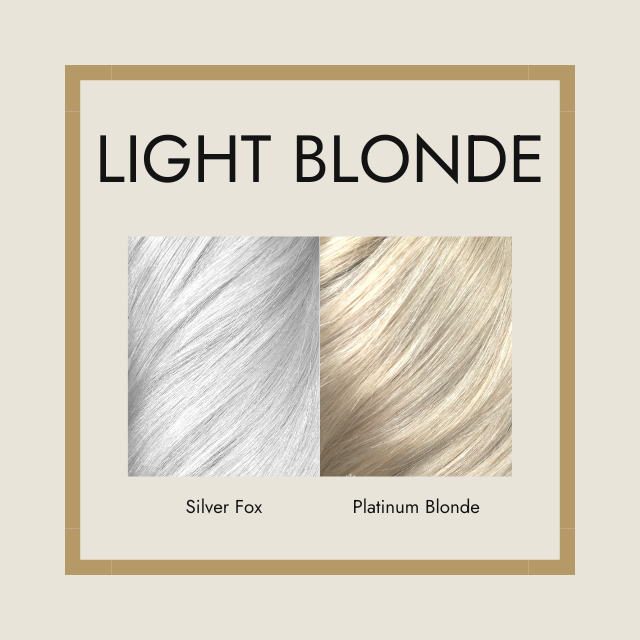 2. Light blonde
Our pale blonde shades are ideal for those who have undergone professional bleach and tone treatments.
'Silver Fox' is a white blonde hair colour, with cool grey hues and lavender undertones. This shade is perfect for achieving a striking, high-fashion look with your blonde.
'Platinum Blonde' is a pale, milky blonde with champagne undertones. Platinum is a warmer-toned alternative to Silver Fox, with the same lightness and brightness.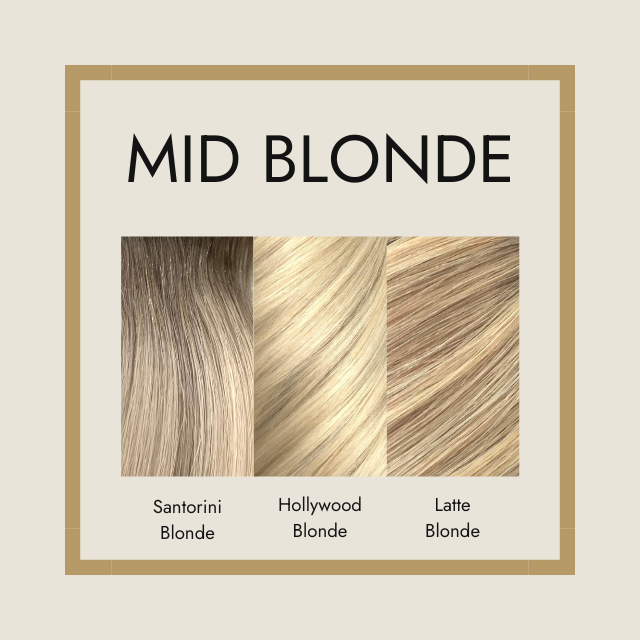 3. Medium blonde
Our medium blonde shades are perfect for those blessed with naturally blonde locks, or those that have had salon lightening treatments.
'Santorini Blonde' is a bright blonde, with the added dimension of a darker root. This shade is ideal for extra depth and ombre or balayage hair that has been bleached at the ends and blended with natural regrowth.
'Hollywood Blonde' is a classic blonde with light, yellow undertones. This shade is perfect for giving your locks a warm and vibrant appearance, with sunny, golden hues.
'Latte Blonde' is the sister of the Hollywood shade, with added lowlights for depth and dimension. A perfect mix of sun-kissed blonde and caramel hues for a more natural-looking enhancement to their current blonde colour.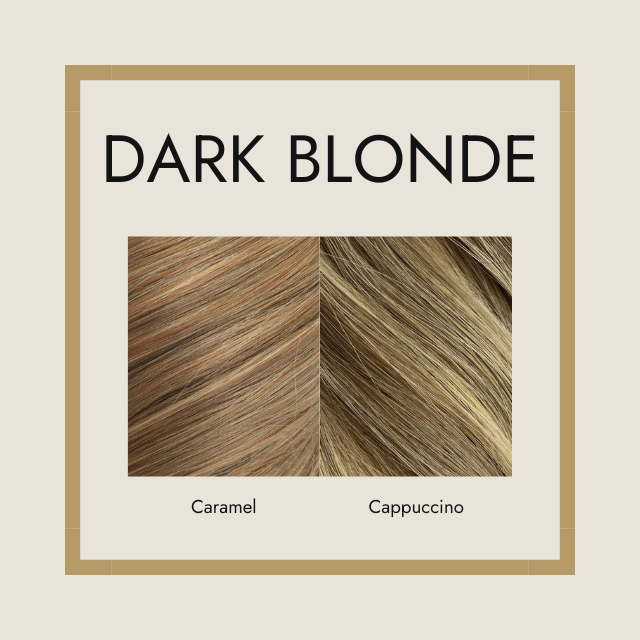 4. Dark blonde
Whilst it may seem like 'dark' and 'blonde' cancel each other out, these shades are stunning for those verging between blonde and light brunette, with unique combinations of highlights and lowlights to compliment the transitional shades.
'Caramel' is a gorgeous blend of medium golden brown and light golden blonde, adding a multidimensional effect to your hair extensions. This is an excellent choice for warm tones and can appear slightly strawberry blonde when caught in natural sunlight.
'Cappuccino' is the perfect bronde shade. A stunning mix of pale brown and blonde to create a cool, grey shade that neutralizes brassier tones, perfect for a sophisticated shade of blonde.
Choosing The Right Shade
Now that we've provided you with a roundup of our shade range, here's how you can select the perfect shade for you!
Consult with a professional hair stylist who can assess your natural colour and offer expert advice. Especially if you are planning to lighten your hair, it is always worth a second opinion that can give guidance on causing minimal damage.
Get in touch with our colour-matching team. Send us a photograph of your hair from the back in natural light, ensuring the full length is visible from root to end. Avoid editing or adding filters to the photograph for the best representation. Our experts will provide guidance on the best match and product information ensuring complete satisfaction.
If you're confident that you have found the right shade for you and have placed your order only to find that you're not 100%, you are able to return or exchange for an alternative product. Check out our returns policy before opening your Foxy Locks extensions.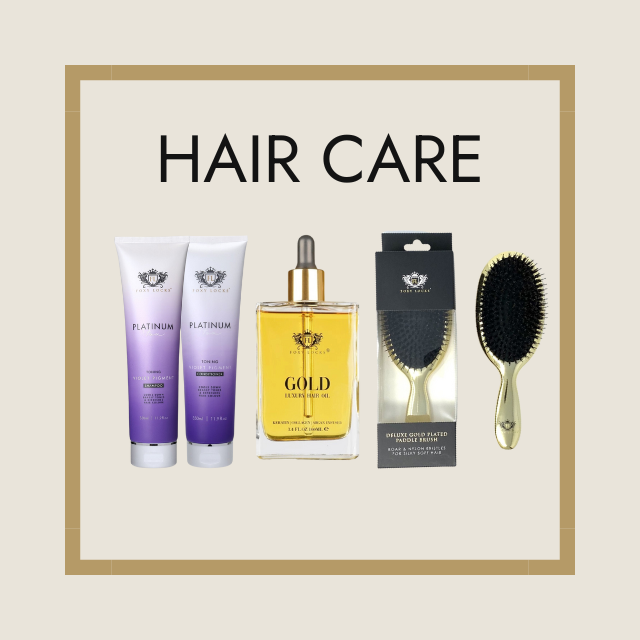 Caring for your blonde hair extensions
Great! You've chosen the perfect blonde, you've ordered your Foxy Locks luxury hair extensions, and you've fitted them to create a stunning blend with gorgeous length and volume. Now what?
Taking care of blonde hair is a little more demanding than other shades, as chemically lightened (bleached) hair can be more prone to damage and break off. The last thing you want after finding your ideal match hair extensions is for them to lose their quality, so proper maintenance is essential. Here are some tips to extend the lifespan of your extensions, the quality of your natural lengths, and the perfect bright blonde:
Use the Foxy Locks Platinum Fox Toning Shampoo & Conditioner. Formulated to keep blonde hair looking bright and lustrous, this vegan and cruelty-free combo provides colour protection and neutralises brassiness.
Use heat protection. Reduce damage by using heat-protectant products on your hair and extensions prior to blowdrying, curling, or straightening. The Foxy Locks Luxury Gold Oil is infused with Argan oil, collagen, and keratin to reduce frizz, giving you protection against heat and UV without a greasy feel.
Brush hair gently, and regularly. Avoid tangles by keeping your extensions smooth with a soft bristle brush. When you're not wearing them, store the extensions correctly to prevent knotting or matting.
You're all set! Foxy Locks blonde hair extensions allow you to experiment and get creative with your hairstyles, with a versatile range of shades to suit all tones and highlights. With our matching service and aftercare products, we provide all the tools you need to achieve your dream blonde length and volume with ease!