Brunette is a sophisticated, versatile hair colour that has infinite possibilities in terms of lowlights, highlights, and multi-dimensional shades.
From rich, near black hues to light summery brondes, there is a huge shade range encompassed by the word 'brunette'. With our help and guidance, we will assist you in finding the perfect match Remy hair extensions from the luxurious Foxy Locks offering.
This blog post will talk you through the differences between each of our brunette clip in and tape in hair extensions, how to get in touch with our expert colour match team to find your shade, and how best to care for your brunette hair extensions.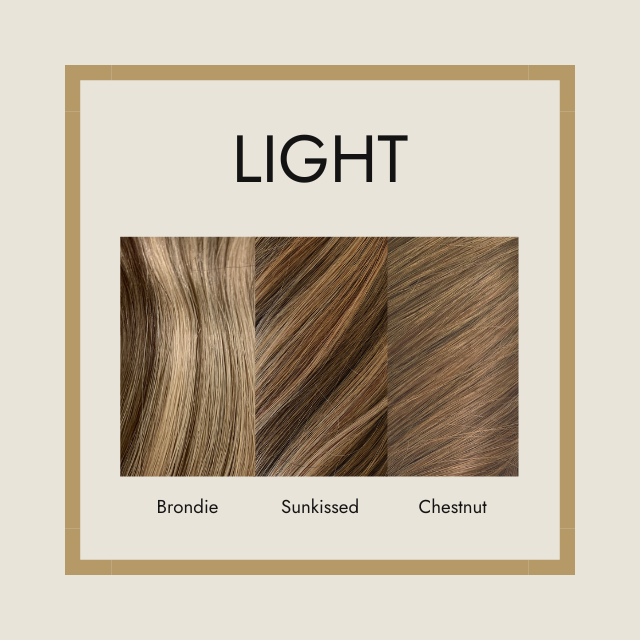 Light brown
These shades are on the lightest end of the brunette spectrum.
'Brondie' is the perfect mix of brunette and blonde, the ideal transitional shade if you're in-between colours, or if you're naturally darker and want some extra highlights throughout your lengths.
'Sunkissed' is a similar, lighter brunette shade, the difference being that the highlights and lowlights are blended more subtly to add more depth and dimension.
'Chestnut' is a golden brunette. When caught in natural sunlight, this shade can appear to have a strawberry hue that likens it to a gingery brown.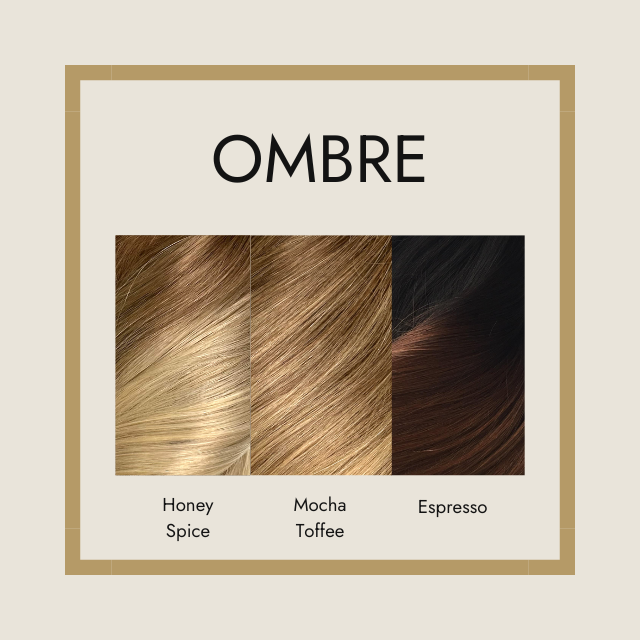 Ombre
The next category of our brunette shades is the ombre range. Ombre is the hair colouring technique that creates a gradual transition from darker roots to lighter ends, blending the colours subtly in between.
'Honey Spice Ombre' is the lightest of our ombre offerings, with a warm ginger brown meeting bright honey blonde ends. If we compare it to our other shades, we'd say this is a mix of 'Chestnut' and 'Caramel' from our blonde range.
'Mocha Toffee Ombre' is a true brown in a warm hue, blending into a golden bronde end. As the name suggests, this is a perfectly sweet chocolate toffee mix.
'Espresso Ombre' is the darkest of our ombre shades. A dark brown black root transitions into a rich coffee brown end.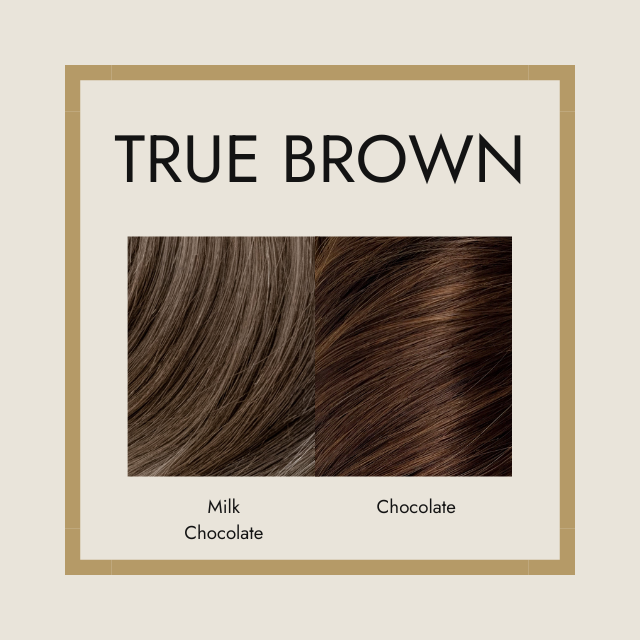 True brown
Although brunette has a wealth of versatility, covering a diverse range of lighter and darker shades, this section spotlights the stunning middle of the spectrum – true brown.
'Milk Chocolate' is the perfect cool toned brown, giving an ashier hue to the hair. This is the ideal neutral nude shade in its ability to be a completely effortless brunette.
'Chocolate' is Milk Chocolate's sister shade, offering a rich, deep brunette alternative. A luxurious brown that looks thick and full of ease.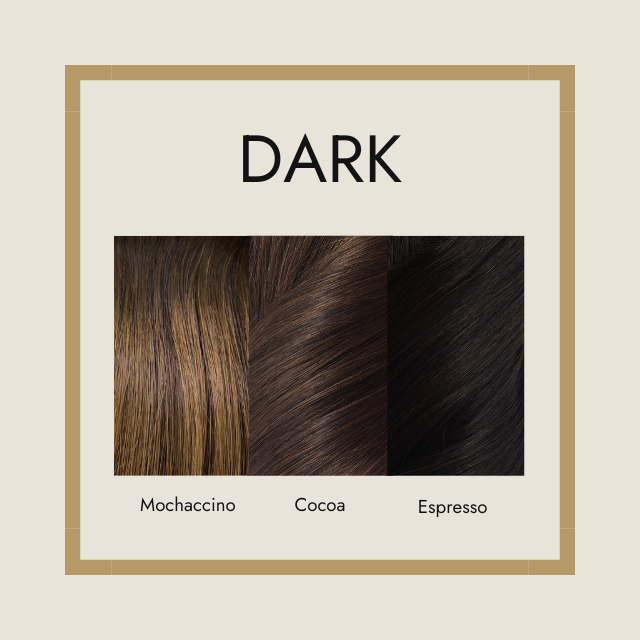 Dark brown
The dark brunette is a shade that compliments all complexions, providing the perfect backdrop to emphasise your facial features.
'Mochaccino' is a deep brunette shade with caramel highlights scattered throughout to create a stunning balayage look. This is perfect for those with naturally dark hair wanting to spruce up their style.
'Cocoa' is a dark chocolate brown that is beautifully rich, giving your locks added thickness and dimension.
'Brown Black' is the darkest and most intense of our brunette shades, offering a more natural alternative to a straight black colour with the same dramatic effect.
Selecting your ideal shade
If you're still feeling uncertain after the shade overview provided, worry not! Here are some additional tips for finding the perfect match for you:
Seek advice from a professional hairstylist. They can evaluate your natural hair colour and provide expert recommendations. This is particularly important if you're planning on colouring your hair to help avoid damage.
Contact our colour match team by sending us a photo of the back view of your hair in natural light. Capture the full length from root to end and refrain from editing or applying filters to ensure the most accurate representation. Our specialists will suggest the best match from our offering and provide product details to guarantee satisfaction.
If you place your order and don't feel 100% certain upon receiving your extensions, you are able to return or exchange for an alternative product. Consult our returns policy before opening to check eligibility.
Caring for your brunette hair
Maintaining the appearance and lifespan of your Foxy Locks luxury Remy hair extensions is easy and straightforward with the proper care. Enjoy healthy natural hair and stunning brunette hair extensions with these instructions:
Keep your hair and scalp clean. Wash your hair and extensions using a specially formulated shampoo and conditioner combination suitable for your hair type and hair extensions.
Moisturise your lengths regularly with a nourishing hair mask, we recommend the Argan Oil Deep Hydrating Masque.
When using hot tools, like curling wands or straighteners, always use a heat-protectant product.
Prevent tangles from occurring by brushing regularly with a detangler brush. Avoid tugging by combing out the ends first and working your way up the hair.
Store your extensions properly - out of direct sunlight in a cool, dry place. We also recommend hanging them up when not in use.
Consult a professional stylist for colour adjustments, extension maintenance, and expert advice.
Following these steps will ensure the longevity of your brown hair extensions, and optimum health of your natural hair. Investing time and effort into your haircare routine will guarantee full, luscious locks.
That concludes our guide to the brunette shade range! Our 100% Remy hair extensions allow you to switch up your look, adding extra length and volume with maximum convenience. We pride ourselves on providing a complete service from the start of your colour match journey, all the way through to supplying the aftercare products you'll need to take care of your gorgeous new locks. If in doubt, don't hesitate to get in touch!